Grain-Free Kitty Treats: Wellness Natural Pet Food Creates Healthy Low Calorie Cat Snacks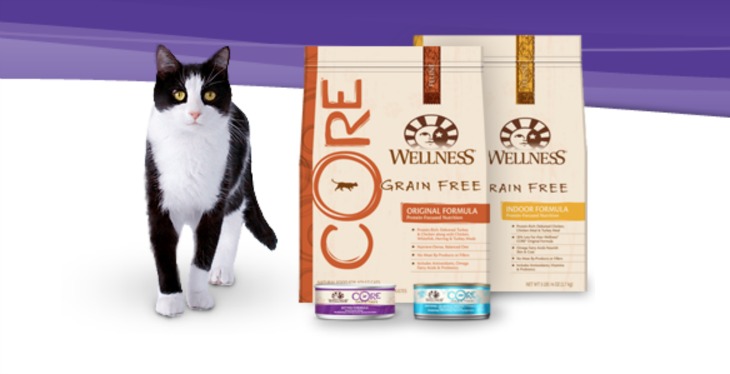 Wellness® Natural Pet Food issued a press release announcing that there are now grain-free, healthy, low calorie cat treats on the market. The better-for-your kitty snacks will be available at pet specialty stores, Petco, PetSmart and online beginning in September.
Wellness® Kittles™ has added three new flavors to its line of number one selling cat treats. These include, Turkey & Cranberry, Whitefish & Cranberry and Duck & Cranberry. In the press release dated August 2, the company announced that each treat has less than two calories. This means cat parents will be able to treat their beloved feline to something delicious, crunchy and healthy several times each day.
You Might Also Like —> What Would Happen If Cats Ruled The World #IfCatsWereInCharge
The cat treats are 100% all-natural and each snack bag contains a fun mix of flower, heart and star shapes to your kitty's snacks even more fun.
Wellness® Natural Pet Food has a full line of grain-free and protein-focused wet and dry cat foods available. Cat parents can visit the company's website and use the product selector to find out which Wellness® product is best for your feline.
You Mights Also Like —> Cats Can't Catch Pokemon GO Creatures Or Sense Them, But They Certainly Make Cute Pictures
Each of the cat foods offered by Wellness® is protein-focused with more meat in every bite and provides balanced, controlled minerals with optimal fat and calorie levels. The products are also omega-rich and help maintain skin and coat health.
The company's mission statement reads: "Wellness® CORE® is based on the nutritional philosophy that cats, based on their primal ancestry, thrive on a diet mainly comprised of meat. Each formula is packed with a high concentration of quality animal protein, without fillers or grains, along with a proprietary blend of botanicals and nutritional supplements."
With the three new flavors of low calorie, grain-free cat treats your kitty can eat healthy all day long. Visit the company's website to find a retailer near you. Wellness® products can also be purchased online.
Share your thoughts in the Comments section below, on our Facebook Page,  Follow Our Twitter Account or Head Over To Our Pinterest Page!