Cat Easter Basket: Ideas For Filling Your Kitty's Basket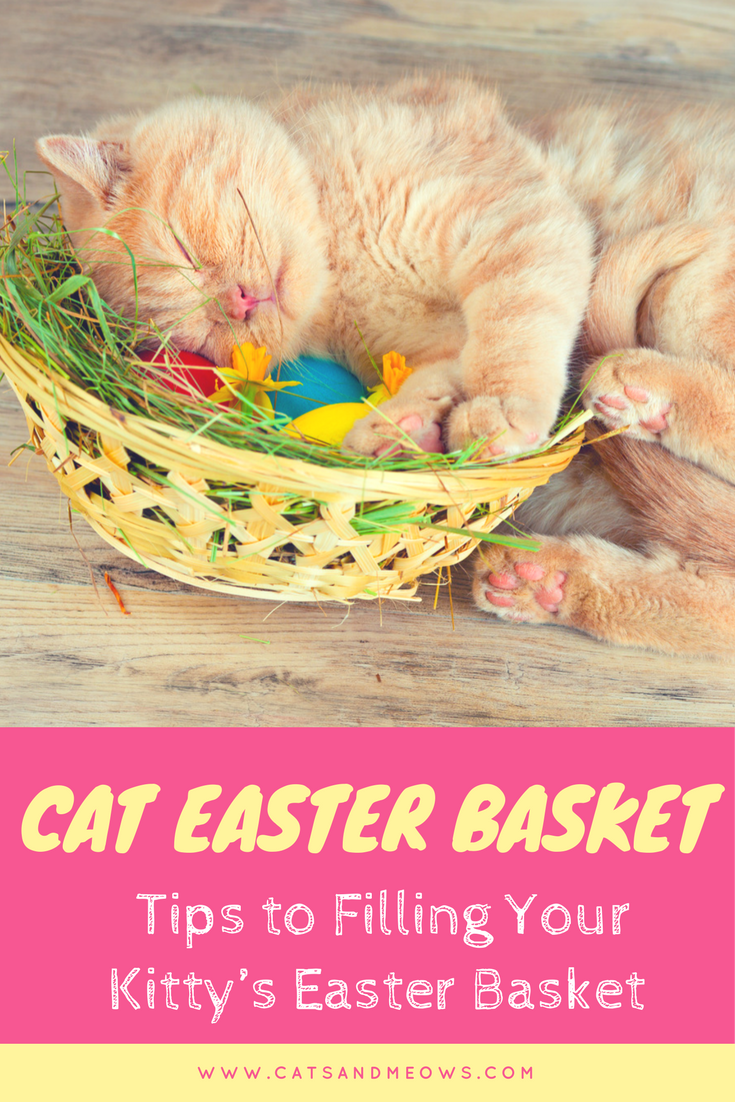 Our pets become such a very important part of our lives and we want to include them in every celebration, don't we?  How fun would it be and how much would your kitty enjoy a Cat Easter Basket that was put together just for them? They bring us so much joy, companionship, laughter, and peace that they deserve to be spoiled too.
Whether you have a new sprightly kitten or a long time companion consider putting together an Easter basket to Fill it with little gifts that are not only fun for them but help keep them in optimal health would be a real treat.
Affiliate links included below. Thanks for your support!
A fun little basket would also make a great gift for a friend or family member who is adopting a whiskered purring child around Easter.
I have a fun, silly, and downright practical list of items that you might use to fill your kitty's Easter Basket for you if you are short on ideas!
While this might not make your cat's motor run it is a great item for you to have on hand should your pet need medical care.
Long haired or short most cats love to be brushed and petted so a good brush is a must if you don't already have one. Even though they are constantly grooming themselves I assure you they won't mind a little attention from you!
It is important to keep their nails trim to avoid any nail tearing and keep your upholstery safe, keep a pair on hand even if you normally have a groomer take care of it for you.
These toys bring endless fun to your feline and also to you, nothing is as funny as a cat on the end of a fishing line type toy like this.
Boredom is often a problem with indoor pets, yours will never be bored if you keep them busy and working for their gratification.  This is a great idea to keep them happy with treats while giving them an alternative to tearing up the drapes.
How fun is this corner piece that pets and grooms your cat at the same time as they slide by? I love that it feels good to them while helping to catch shedding hair.
What cat doesn't love a little catnip, be sure to include one of these fun catnip filled items if you want to really make them happy.
Include other items like catnip refills, their favorite treat, a container of special food, and inexpensive toys  for your feline friend(s) to enjoy.
What about a basket to keep everything in? I love the idea of making it from something that is functional as well!
How about this massage cat bed to hold all your little kitty items?
You can also tuck it in a new fancy bed for your favorite feline to lounge on…
I am preparing a basket for my babies Milo, Cocoa, and Lily.  How about you do you have anything special you are doing for your babies for Easter?
Share your thoughts in the Comments section below, on our Facebook Page,  Follow Our Twitter Account or Head Over To Our Pinterest Page!