Halloween Costumes For Cats Are Super-Cute But Guarantee Grumpy Felines
Halloween is here already, and across the land, cats are decked out in cute costumes. Of course, plenty of photos arrive on social media, and it seems that felines really don't appreciate the fun as much as their owners. In fact, judging by some photos, they seem downright grumpy about it.
Halloween Cats Had Problem In The Olden Days
If grumpy cats that wear costumes during the spooky season knew their history, they might not object so much. Especially, black cats! Did you know that way back in history, black cats were thought to be evil? So sometimes, the unfortunate animals ended up sacrificed. Hopefully, there's not too much of that going on in the year 2022. Mind you, it's alarming at how many black pets disappear during Autumn.
Each year when Halloween comes around, folks across the USA either make their own costumes for their kitties, or head out shopping for feline apparel. And, there's no shortage to choose from. Pirate costumes are popular, as are bees and birds and even Mario-styled fashionwear. Some of them are very inventive, but who knows how cute Felicity feels by dressing up as Minnie Mouse?
Halloween Cats In Costumes Appear On Social Media
On October 31. Twitter user Ben Porter posted up a photo of two cats. As you can see below, they looked seriously unimpressed with their outfits. However, as noted by Ben, "The cats might hate their costumes, but they sure are cute." Yep, those are two very grumpy kitties.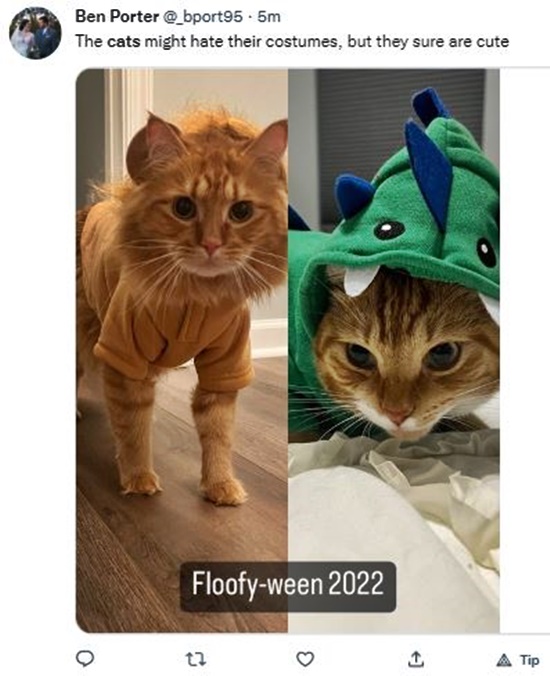 Here's another really irritated-looking cat who clearly does not appreciate the Halloween season.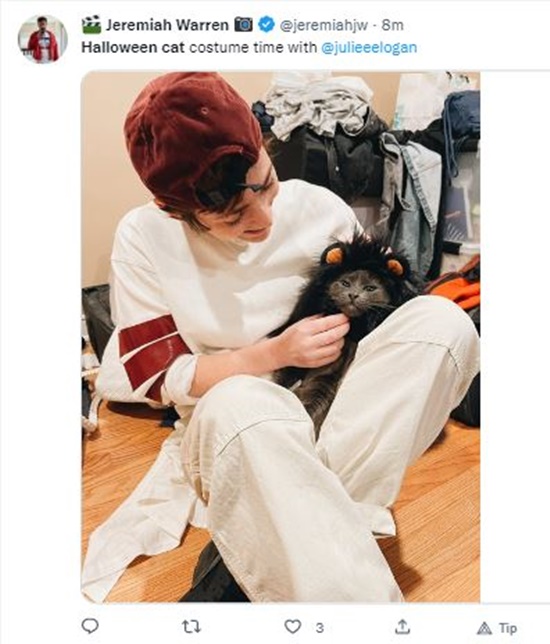 Fortunately, felines are loyal and lovable creatures, so in time, they might forgive their human owners. Mind you, Thanksgiving and Christmas loom ahead. So, the indignity isn't over yet.
Does Dressing Up Your Cat Traumatize Them?
Halloween and other seasonal costumes for cats can be traumatic for the animals, according to The Cat Connection. Their website notes, "Make no mistake: cats hate wearing costumes. At the very best, your cat will tolerate it, but more than likely, she is traumatized by the costume itself, the process of dressing and undressing." 
Whilst it might look cute and be a lot of fun for the family, the outlet feels that all of the stress is way too over the top just to snap a few photos. Of course, the site does sell sweaters for cats, but only because sometimes, the cold is intolerable.
What are your thoughts about dressing up cats in costumes for photos to post on social media? Do you think it's cruel? Or do you feel that it's all a bit of harmless fun?
Share your thoughts in the Comments section below, on our Facebook Page,  Follow Our Twitter Account or Head Over To Our Pinterest Page!
https://youtu.be/IwUcW3-DE7M