Cats Control When They Eat: Veterinarian Designed The NoBowl Feeding System™ Now Available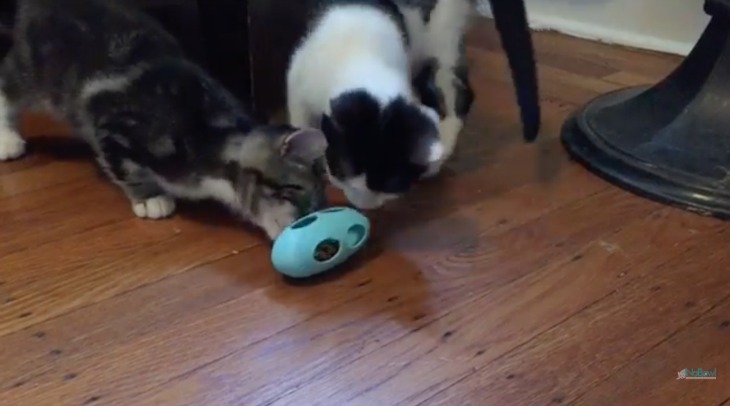 As any kitty parent knows, their fur babies can be demanding when it comes to meal times. Veterinarian Elizabeth Bales has designed The NoBowl Feeding System™ that puts the control into your kitty's paws and will reawaken your cat's natural hunting instincts.
Now available, The NoBowl Feeding System™ has been designed to reshape your cat's relationship with food and eliminate unpleasant cat behaviors. What feline caretaker hasn't dealt with a cat who stalks their food dish between meals or a kitty that wakes them in the middle of the night hoping to be fed?
Philadelphia-based veterinarian Elizabeth Bales explains that the system is based on the science of feline behavior and environmental enrichment. The description of the system on The NoBowl Feeding System™ website explains that cats like to hunt – not be served from a bowl. The feeding system replaces the food dish and allows your cat to stalk, trap and play with its food the way nature intended.
You Might Also Like —> Cat Food Bank Desperate For Donations: Seattle Humane Society Tweets Cat Food Needs
It may take a few weeks, but this revolutionary new way to feed your cat will "reawaken your cat's natural instincts helping it become what it always wanted to be – a happy, healthy hunter," Dr. Bales explains.
Feline caretakers interested in the science behind the revolutionary new system should visit The NoBowl Feeding System™ website and read Dr. Bales explanation of how it will change your cat's life. You will find full details about what parts comprise the system, information about transitioning your cat from the bowl feeding to no bowl feeding and more advice on caring for your cat.
The complete The NoBowl Feeding System™ is priced at $60 and there are accessories that can be purchased to compliment your cat's new feeding adventure. All items purchased on the website will begin shipping in September 2016. Free standard shipping is available on orders of $10 or more.
Share your thoughts in the Comments section below, on our Facebook Page,  Follow Our Twitter Account or Head Over To Our Pinterest Page!