Endangered Lion Bhanu Squeezes Into CAT Scanner In London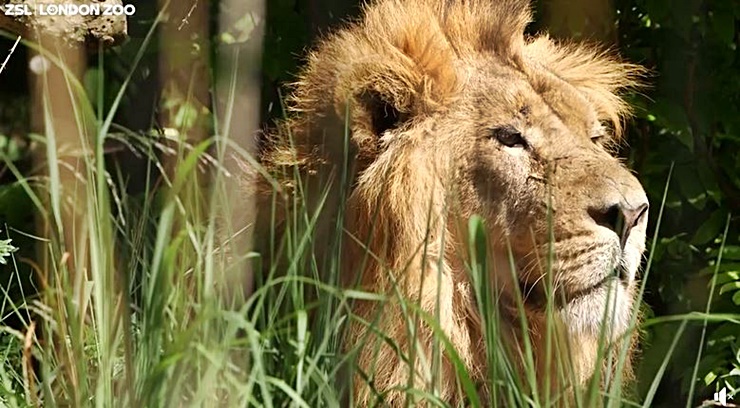 An endangered lion named Bhanu is part of a special breeding group of big cats. Actually, it's an important aspect of the London Zoo, as Asiatic lions grow increasingly scarce. So, they are only found in the wild in a restricted area. Now aged 12, the big cat developed a medical condition that needed investigation, so he was squeezed into a CAT scanner.
Endangered Lion Bhanu Is A Really Big Cat
Not all big cats are all that big. For instance, Stryker, a cross between an African Serval and a domestic cat, scared a few people in the Buena Vista neighborhood of Miami in April. That came when his owner relocated and Stryker took off to explore his new neighborhood. However, tigers and lions are a lot bigger than Stryker.
These days, it seems that veterinarians need to be well trained to handle larger cats. Actually, it would be interesting to know what the Miami vet thought when they first met the Serval crossbreed.  Well, for the endangered lion Bhanu, much bigger problems presented themselves when he developed an ear infection.
Taking Extra Care With The Endangered Lion Bhanu
When AFP reported on YouTube about the big cat and his medical problem, other outlets picked up the story. Apparently, the large feline wasn't feeling at his best after suffering from an ear infection. Possibly, the infection took time to disappear, so the ZSL London Zoo veterinarian, Taina Strike felt that they should investigate further.
Hoping that the endangered lion hadn't developed a tumor, they decided to put Bhanu into a CAT scanner. Well, these complex machines don't lie around in the storeroom at the zoo. So, they arranged for one to come to the zoo. According to The Sun, it's the "first time" that ever happened.
A Tight Fit
Folks who worry that the endangered lion might have cancer can relax. Apparently, it turned out that the CAT scanner resulted in a good outcome. So, for now, Bhanu is getting by with "oral medication." In the video, it took about six people to move the sedated animal to the scanner. When the scanner arrived, it looked into the ear and it turned out to be an infection that's not uncommon in felines or humans.
Actually, it wasn't the first time that Bhanu suffered from discomfort in his ears, so the vets really wanted to get to the bottom of it. Hopefully, the big cat will fully recover and go on to breed many more of his rare species. While plenty of people hate the idea of zoos, in this instance, it might be the last hope for the continuation of Asiatic Lions on Planet Earth.
Be sure to catch up on everything happening with cats. Come back here often for big cat news and updates.
Sources – https://www.the-sun.com/news/5754194/lion-undergoes-first-cat-scanner-london-zoo/ AFP