The Cat in the Hat 4 Prez – One Charity to Benefit From One Vote, Two Vote, I Vote, You Vote Campaign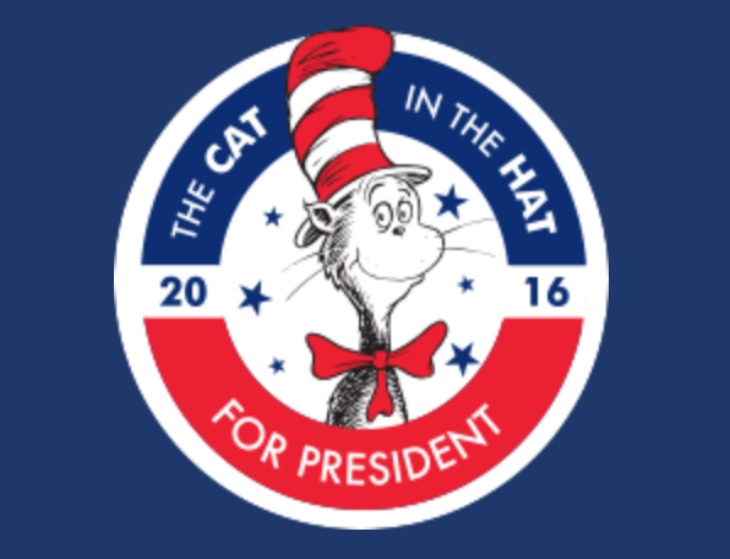 "The Cat in the Hat" has decided to run for President. The Dr. Seuss character announced his candidacy with the help of spokesman Michael Fenton outside the home in Springfield, Massachusetts where Theodor Seuss Geisel's spent his childhood.
The Cat in the Hat was joined by vice presidential running mates Thing 1 and Thing 2. The Cat in the Hat is the Kids' Candidate but is running an independent.
If elected The Cat will ask all cabinet members to speak in rhyme according to Susan Brandt, vice president of Dr. Seuss Enterprises. Will the Cat release his tax returns? Susan assured voters that the Cat in the Hat "will be fully transparent."
On the Cat in the Hat for Prez website visitors will find five charities for whom they can vote. The charity that receives the most votes will receive a $10,000 donation.
Those five charities are First Book which supports education, Oceana which supports ocean conservation, Feed the Children which supports the fight against hunger, Conservation International which supports the environment and Pacer which supports kindness towards all.
The Cat in the Hat 4 Prez campaign is part of a promotional event for the Cat's latest book, "One Vote, Two Votes, I Vote, You Vote."
Share your thoughts in the Comments section below, on our Facebook Page,  Follow Our Twitter Account or Head Over To Our Pinterest Page!