Taylor Swift Launches Reputation With Feline Friends – Celebrity Cat Photos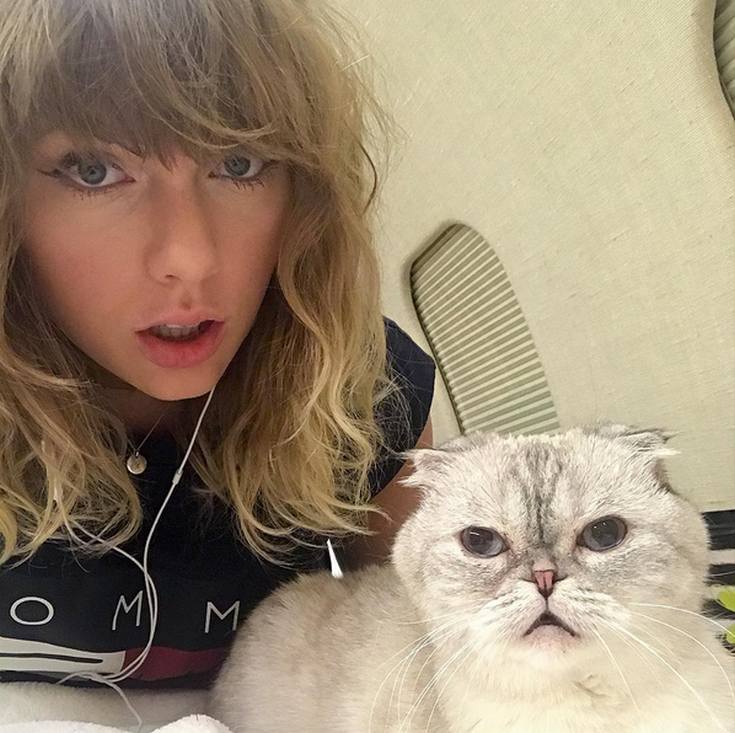 While Taylor Swift was anxiously awaiting for her latest album, Reputation, to be launched, the songstress hung out with her feline friends. Check out the adorable celebrity cat photos.
Related: Adele Visits Vancouver Cat Café: Falls In Love with Catfe Feline Larry
Swift posted the pics of her famous cats named Meredith Grey and Olivia Benson. In one image Taylor is posing with her irritated kitty. Wearing a Tommy Hilfiger shirt and some headphones, the 'Shake It Off' singer caption the photo, "Waiting for #reputation like…"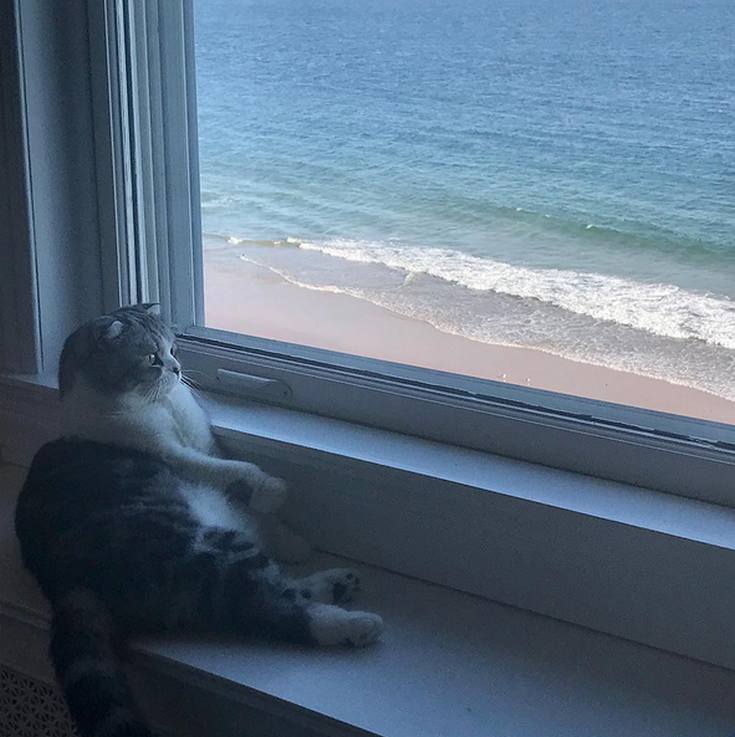 In another photo Taylor shared, Meredith, is enjoying a beachfront view while lounging on a windowsill with the same caption. (Personal note – I am now envious of a cat.)
Taylor Swift's cats are also a part of her promotional campaign for Target. The 'Call It What You Want' crooner teamed up with the retailer to crank out an exclusive 72-page Volume 1 Magazine. In poking a bit of fun of crazy headlines, the mag's back page has attention-grabbing headlines like "Who Is Olivia's Real Father?" and "Catitude! Meredith Is Out of Control!"
In addition to her Instagram, cats also played a part in the launch of her wax figure at Madame Tussauds. When the wax Taylor was unveiled, several cats and kittens surrounded the figure. The kitties, courtesy of Give Me Shelter cat rescue, are available for adoption.
In addition to the publicity campaigns, on of Taylor's songs mention her fur babies. Tay Tay sings, "Guess I'll just stumble on home to my cats. Alone, unless you wanna come along, oh!" It's rumored this line is believed to be about Taylor Swift's boyfriend, Joe Alwyn.
Related: 5 Celebs That Have Cats
We all know how much Swift loves to pay homage to her celebrity pals and past boyfriends. In fact, both cats are named after celeb. Meredith is named after Ellen Pompeo's Grey's Anatomy character and Olivia comes from Mariska Hargitay's 'Law & Order: Special Victims' character.
Have you heard Taylor Swift's new album, Reputation? Share your thoughts in the comment section below.
Share your thoughts in the Comments section below, on our Facebook Page,  Follow Our Twitter Account or Head Over To Our Pinterest Page!