Pretty Little Liars Star Keegan Allen's Cat Poses On His Shoulder For A Cute Photo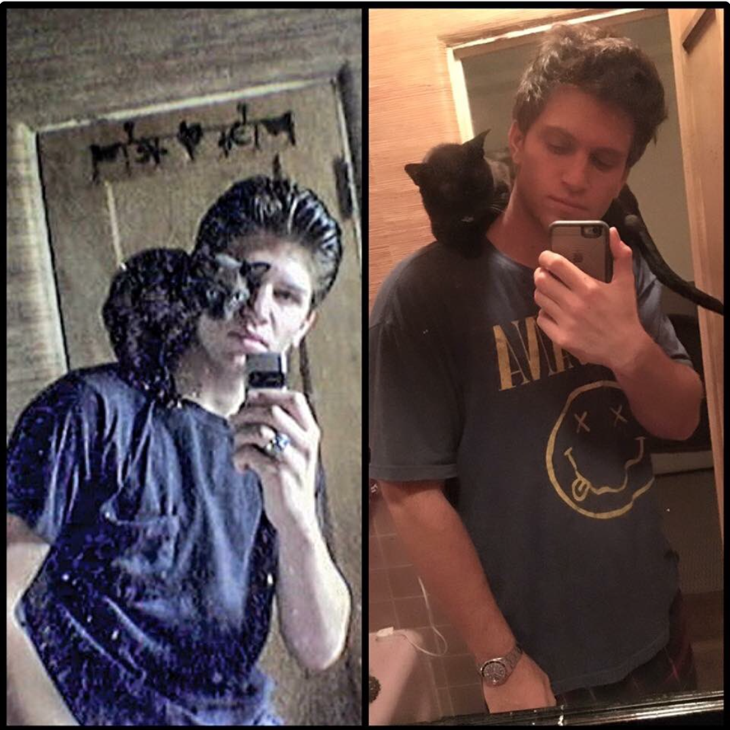 Keegan Allen is a man of many talents. Not only does he play the part of Toby Cavanaugh on Pretty Little Liars, he also is a musician, a talented photographer, and dedicated cat owner. The Pretty Little Liars star is totally down-to-earth, and very active on social media. He's constantly sharing fun things on Twitter and Instagram, including photos and videos of his cat!
Keegan Allen is basically a household name now, thanks to his seven season on Freeform (formerly known as ABC Family). Since Keegan got his big acting break on Pretty Little Liars, the talented actor has used his newfound fame to show off his many other talents, especially photography. Allen has one of the best-selling photography books out right now!
You Might Also Like —> International Cat Day August 8: Celebrate Felines – Read The Cat in the Hat – Sing Soft Kitty, Warm Kitty
If you follow Keegan Allen on social media, then you have definitely seen snapshots and videos of his black cat in the past. Keegan began posting photos of his cat a couple of years ago, and recently shared a photo posing with his pet when he was a kitten and recreating the pose now. Keegan's feline friend perched on his shoulders like a pro, looking totally relaxed, as Keegan snapped his photos. His pet also makes a perfect model for some of Keegan's artistic photographs. Our personal favorite is "Cat In A Bath," which can be seen on his Instagram.
We love seeing celebs show off their cats! It's great to know that some of our favorite actors are just as in love with their pets as we are. And, it's no secret that there are thousands of pets sitting in shelters in search of forever homes, and having popular celebs Keegan Allen show off their cats has got to be inspiring at least one or two people to consider adopting a cat of their own!
Share your thoughts in the Comments section below, on our Facebook Page,  Follow Our Twitter Account or Head Over To Our Pinterest Page!