International Cat Day August 8: Celebrate Felines – Read The Cat in the Hat – Sing Soft Kitty, Warm Kitty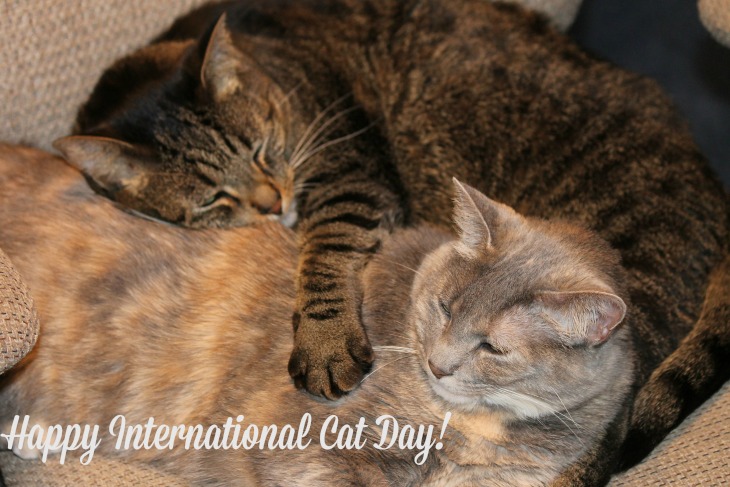 Happy International Cat Day! Your feline probably expects you to celebrate it every day of the year but August 8 is the day everyone around the world is celebrating cats and all their quirks, craziness and of course, cuddliness.
August 8 was chosen as International Cat Day – in 2002 by the International Fund for Animal Welfare. Did you know that not only is there an International Cat Day but there is also National Cat Day celebrated on October 29 each year!
Have some fun on International Cat Day. Check out Stuff on My Cat for a few laughs at felines' expense. You'll find an assortment of crazy photos of cats whose owners have decked them out with, well….stuff. One poor kitty has been decorated with a bottle of Pellegrino water and a remote control.
Cats love to sit in boxes – remember if they fit they sit. Unfortunately, one cat decided that the box for its family's board game 'Sorry' was the place to sleep. What did they do? They put stuff on their cat – 'Sorry' game cards and pieces.
How about snuggling with your cat and watching 'Grumpy Cat's Worst Christmas Ever.' It's a 2014 classic about a lonely cat living in a mall pet shop. Rather not watch a movie with your feline? Celebrate International Cat Day by going to see the new movie 'Nine Lives' starring Kevin Spacey and Jennifer Garner.
International Cat DayInternational Cat Day is the one day you can't get mad at your kitty for, claiming your spot on the bed as its own. That furry feline is will be right back at it and you can scold them tomorrow. Read 'The Cat in the Hat,' sing 'Soft Kitty, Warm Kitty,' and find an empty box or basket for your fur baby to enjoy.
Share your thoughts in the Comments section below, on our Facebook Page,  Follow Our Twitter Account or Head Over To Our Pinterest Page!