Haley Pullos Shares Adorable Snapshot Giving Her Cat Chloe 'Good Morning Kisses"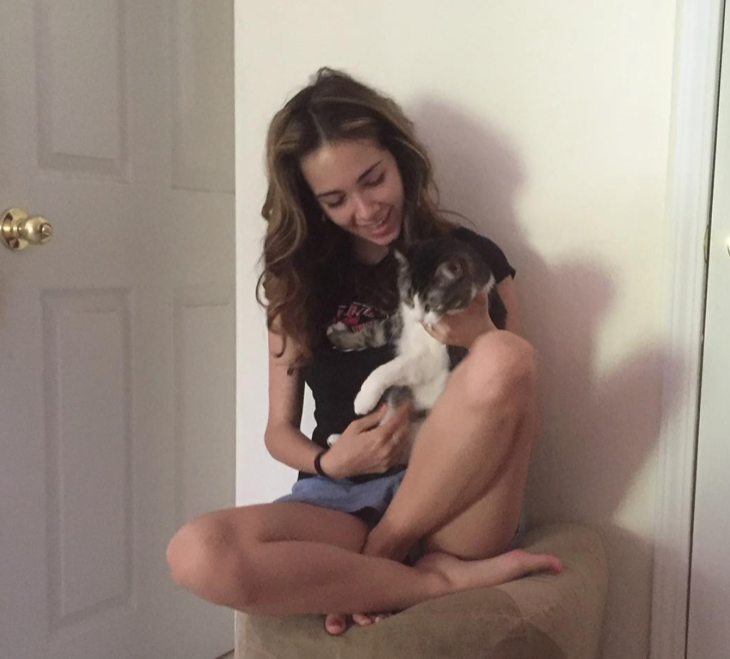 Have you ever noticed that your cats aren't usually morning people (or felines)? When we wake up in the morning, the first thing we want to do is cuddle with our kitties, but they aren't usually willing to participate. 'General Hospital' star Haley Pullos recently experienced a similar situation with her adorable pet cat Chloe.
The 'General Hospital' star took to Instagram and shared a photo of her and her cat Chloe. Haley captioned the adorable pet photo, "good morning 🐵🐵 (Chloe was not happy about my good morning kisses)." This isn't the first time that Haley's cute cat has appeared on her social media accounts. One of Haley's Instagram followers commented, "Cats definitely have a mind of their own! But I love them." Another one added that Chloe was "Too cute for words."
Haley Pullos is well known for her role on the ABC soap opera 'General Hospital.' Haley has played the part of Molly Lansing-Davis since 2009. Fans of the soap have watched Haley grow up over the years on daytime television, and are thrilled that they get to see some private and personal snapshots of Haley, her friends, and family, and her adorable cat Chloe on Instagram.
2016 has been a big year for the 18-year-old actress. Not only has her 'General Hospital' character Molly gotten some pretty big storylines, but she also has been working on a few other projects, AND the busy teen graduated from high school!
We love the fact that some of our favorite celebs love their cats just as much as we do. Even if they aren't too cuddly in the morning! And, we are thankful that the very talented Haley Pullos shares her private photos of Chloe with us! What do you think of Haley's cat Chloe? Are you a fan of her 'General Hospital' character Molly Lansing-Davis? Let us know in the comments below!
Share your thoughts in the Comments section below, on our Facebook Page,  Follow Our Twitter Account or Head Over To Our Pinterest Page!