Botany Cats Launches Florida Mobile Cat Lounges In Polk County
Botany Cats brings the first mobile cat lounge to Florida. Partnering with Saving Paws Rescue of Florida, it brings an opportunity for cat lovers to meet and greet the cats and more. It is still a work in progress, but back in April, an Instagram post gave cat-lovers a better idea of how it works.
Botany Cats Started Up After A Visit To A Cat Café
Cats are filling up places like the SPCA and unfortunately, Polk County has a high rate of euthanasia. Probably, you have seen those social media posts about cats that urgently need a home or face the end of their lives. Well, the idea of killing cats is abhorrent. So, keeping them alive outside of the rescue enters might give many of them a second chance at a forever bright future.
Without those who care, like Botany Cats, many more cats might narrowly escape the near-fate of a rare Havana Brown Cat. The abused kitty was confined to a cage so small, that it ended up debilitated. In that instance, the lucky cat got some expensive rehab done and found a furrever home. But, that seems very rare. More often, cats that are not adopted end up being put down. So, the new lounges were inspired by a visit to a cat café in Orlando.
Botany Cats
An article by WFLA focused on the number of cats that get euthanized each year. However, the backstory seems very interesting. After all, it shows how just one person can make a difference. It all began when a cat café idea sparked a desire to take cats to markets and fairs in a mobile facility. A former veterinary nurse combined the idea of selling plants from her mobile shop. Next, she combined it with a place to meet and cuddle the cats.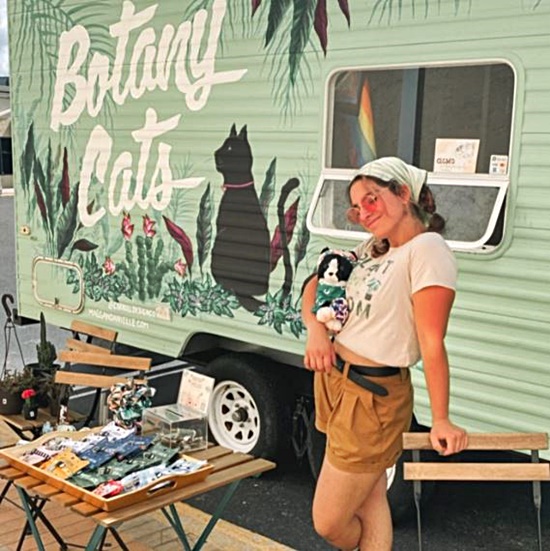 According to the Botany Cats website, the idea is to "bring the love and fun to the community."  Furthermore, the idea grows and possibly expands beyond the original idea of doing it only in Lakeland. As the concept grows, people can sit with the animals, cuddle them, and enjoy a coffee or a snack. There, they may even opt to adopt a cat.
Upcoming Events
Botany Cats will be at the Pride in the Park event in Lakeland on June 18. The next one will be at the Buena Market on June 25 at Haus 820. While the pop-ups are walk-in only, folks can make a reservation for the cat lounge. Reservations are charged at $7 for half an hour.  Keep an eye out for more of the same as the summer progresses.
The aim is to find the perfect cat that matches your personality and circumstances. Additionally, all of the cats are "fully vaccinated, microchipped, spayed/neutered, dewormed, given monthly flea prevention, and tested for common diseases such as feline leukemia, aids, rabies, distemper, etc."
Share your thoughts in the Comments section below, on our Facebook Page,  Follow Our Twitter Account, or Head Over To Our Pinterest Page!