Adopting a Cat for Christmas – Carefully Consider Pets as Presents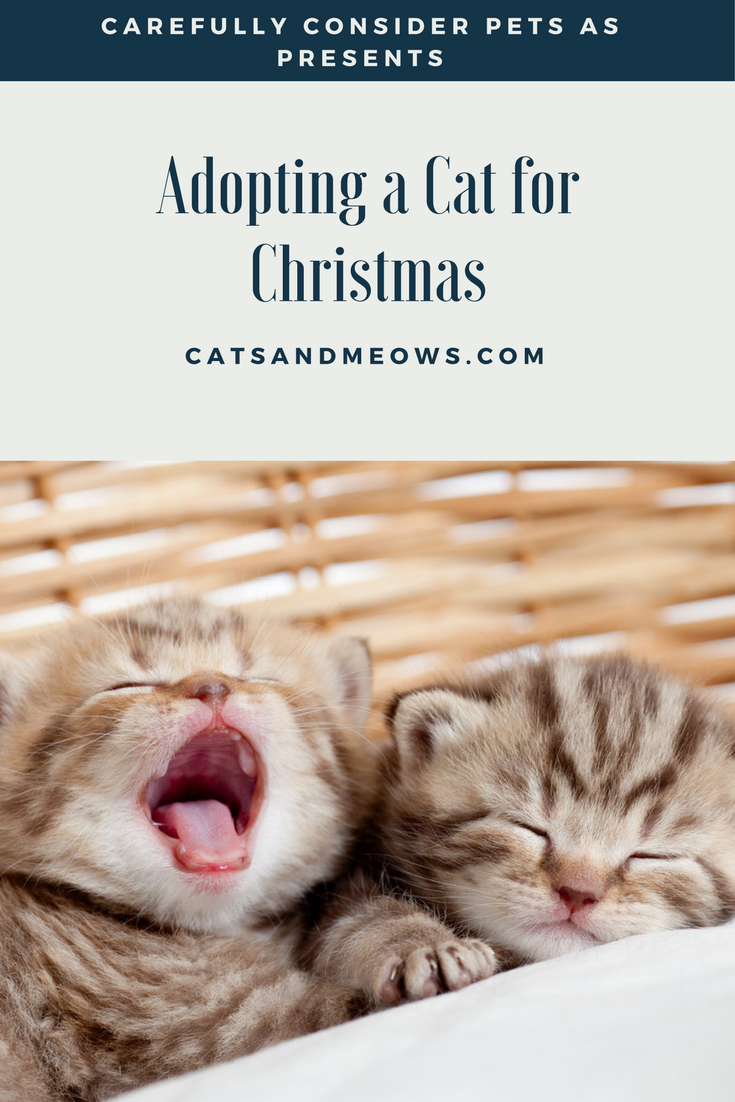 Are you thinking of adopting a cat for Christmas? Make sure you carefully consider pets as presents. Welcoming a new fur baby into your home is a big deal and should be done for the right reasons in mind.
Related: Post-Natal Care of a Cat and Her Newborn Kittens
Family Decision
In general, adopting any kind of pet into your home and family should be a family decision. It's vital to involve each member of the family including children. Adoption is a big deal and it's easy to get swept up in the thought of seeing your child's surprised face when a cute little kitten wearing a red bow makes them smile on Christmas morning.
Consider Hurdles
Is there a chance of allergies? Is anyone afraid of animals? Will someone be home to care for the pet and give it the attention and love it needs and deserves? There are a lot of questions you should be asking yourself and your family to consider ever hurdle that might arise.
Financial Support
Something many fail to consider is the financial aspect of pet adoption. Beyond the adoption fee, there is daily costs such as food. Then, there are other costs of adopting a pet like yearly exams and vaccinations. You also need to have a financial plan for your pet's unexpected needs like illness or injury.
Related: Cat Travel Regulations: Check For Guidelines And Regulations Before Adopting A Feline From Foreign Country
Alternatives
Another option to adoption is fostering. Most shelters will allow you to take the pet on a trial basis. Making sure your new furry family member fits with you, your home, and your family is everyone's main concern. Also consider the fact that selecting your new family member should be a family event. Picking out that special pet is an opportunity for your family to experience the process together. Instead of already having the pet, consider giving a give certificate to a local rescue around a plush version of the pet you plan on adopting. It will be much easier to wrap and deliver the same surprise and joy.
Do you have a cat or pet adoption story? Please share your experience in the comment section below.
Share your thoughts in the Comments section below, on our Facebook Page,  Follow Our Twitter Account or Head Over To Our Pinterest Page!