Which Holiday Plants are Toxic for Cats?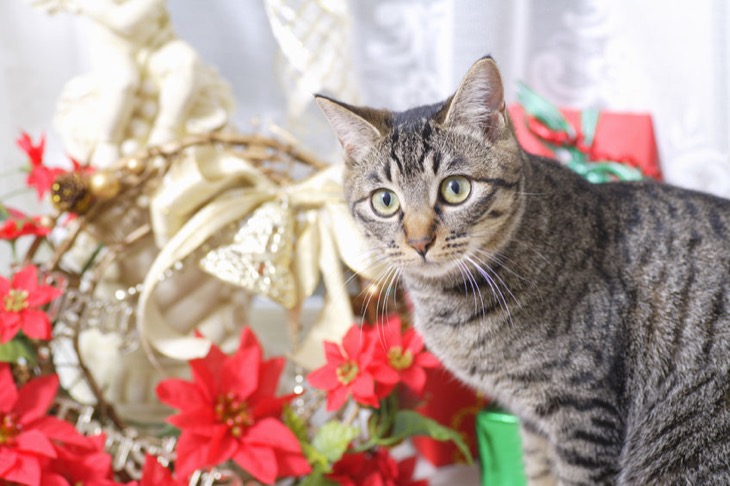 Is there anything more adorable than a cat decked out in a Santa suit? Or a kitty dressed up as a swashbuckling pirate? When the holidays roll around, dressing up our furry friends in cute holiday costumes is a big part of the fun for pet parents!
At this time of year many of us also get in the holiday spirit by decorating our homes with live plants, but many of these festive flowers and garlands pose a health hazard to our pets.
If you're not sure which plants could result in an unexpected trip to the ER for your favorite kitty, read on to insure that your holidays stay fun for both you and your pet!
You Might Also Like —> What exactly is catnip? Details HERE!
Holly and mistletoe are two of the most dangerous plants that people display in their homes at Christmas. Both will produce stomach upset if ingested, and owners should call their vet if they believe their pet has nibbled either plant.
Symptoms of holly and mistletoe poisoning include, "a change in mental function, difficulty breathing, or a low heart rate…vomiting, diarrhea, decreased energy, and general upset stomach."
Most consumers have heard that poinsettias are toxic if ingested. Some experts now say that the bright red plants pose only a mild risk, and that animals who ingest the plant display few, if any, symptoms.
Still, it may be wise to error on the side of caution and steer clear of poinsettias this time of year!
You Might Also Like —> Is It Safe For Cats To Eat Bugs?
But if you choose to replace a poinsettia plant with other blooms, beware that some are more poisonous than others.
Lilies, daffodils, and amaryllis make beautiful table toppers for holiday parties, but these popular flowers are extremely dangerous to cats.
If ingested, lilies can cause feline kidney failure and there is no available antidote. Ingestion of daffodil or amaryllis flowers by pets can lead to loss of appetite, vomiting, depression, and even tremors.
So, with just a bit of caution on your part, your cat will stay healthy and happy this holiday season, and who knows, he might even enjoy wearing that little hat you knit for him!
Share your thoughts in the Comments section below, on our Facebook Page,  Follow Our Twitter Account or Head Over To Our Pinterest Page!