Purina Cat Chow Teams Up With Busy Philipps: 5 Million Meals To Be Donated To Cat Rescue Bank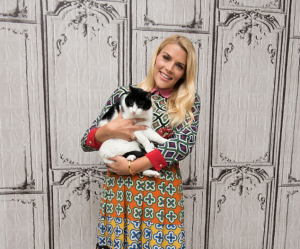 Purina Cat Chow has committed to donating up to five million meals to Rescue Bank which is a non-profit organization. Actress Busy Philipps is involved in the campaign which will take place during the month of July.
In a press release Purina announced its participation in 'Nutrition to Build Better Lives' campaign. For each bag of Purina Cat Chow purchased between July 1 and July 31 the pet food company will donate one meal to Rescue Bank. The meals will be distributed nationwide.
"With so many cats in shelters and rescues, animal welfare organizations have a lot to worry about, but providing quality nutrition for the cats shouldn't be one of them. It's important to ensure that shelter cats receive great nutrition, like that of Purina Cat Chow, so that they are healthy and well-fed as they seek their forever homes. As a life-long cat person, this is an effort that is close to my heart," Busy stated in the press release.
How can you help? Simply purchase a bag of Purina Cat Chow sometime between July 1 and July 31 and help the company reach its goal of donating 5 million meals. "We hope cat people across the country will join us in helping to donate food to cats in need."
Purina Cat Chow has donated more than $845,000 in supplies, food and renovations to advance the rescue, nutrition and adoption of cats in shelters.
Executive director of Rescue Bank stated, "The Purina Cat Chow 'Nutrition to Build Better Lives' is a great program for delivering high quality nutrition to rescue and shelter cats."
Rescue Bank is non-profit organization that operates on a national food bank model to collect and distribute high-quality pet food and other supplies to a network of pre-qualified animal welfare organizations throughout the United States
Participating in the 'Nutrition to Build Better Lives' will help during the summer months, a time when funds to assist with pet wellness and other needs, are scarce.
Consider helping Purina Cat Chow not only in reaching its goal of 5 million meals donated to Rescue Bank, but help your local cat shelter or cat rescue by donating bags of Purina Cat Chow during the 'Nutrition to Build Better Lives' July campaign.
Share your thoughts in the Comments section below, on our Facebook Page,  Follow Our Twitter Account or Head Over To Our Pinterest Page!