June Is National Adopt-A-Cat Month: 'Because Every Cat Counts'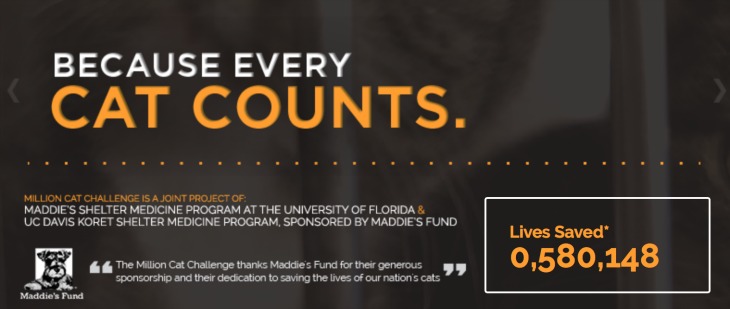 For all the cat lovers out there, June is National Adopt-A-Cat Month. During this special time to acknowledge our furry feline friends, it is important that every person does their part in rescuing homeless cats and kittens to eliminate the senseless suffering of these animals.
As reported on WVLT – TV, Local 8 Channel in Knoxville, Tennessee, The Humane Society Of The Tennessee Valley (HSTV) located at Kingston Pk, Knoxville, Tennessee, is participating with shelters across North America in the Million Cat Challenge.
The Million Cat Challenge, per their website (millioncatchallenge.org) is a shelter-based campaign to save the lives of one million cats in North America over the next five years.
The core strategy of the campaign will focus on five key initiatives that offer every shelter, in every community, practical choices to reduce euthanasia and increase live outcomes for shelter cats.
This life-saving campaign is a joint project of the UC Davis Koret Shelter Medicine Program and the Maddie's Shelter Medicine Program at the University of Florida, led by Drs. Kate Hurley and Julie Levy.
The five key initiatives are: 1. Alternatives to Intake, 2. Managed Admission, 3. Capacity for Care, 4. Removing Barriers for Adoption and 5. Return to Field.
As noted by WVLT – TV, the Humane Society of The Tennessee Valley does practice all five the key initiatives in an effort to responsibly and effectively save lives through innovative methods such as removing barriers to adoption. One way that the Humane Society of The Tennessee Valley has been able to do this is through sponsored adoptions and donor funded specials. This month they have lowered their adult adoption fee to $25.00, in the hopes of more cats finding the homes that they need.
Thank you to the Humane Society of The Tennessee Valley for your efforts and support of finding homes for these cats and kittens, that have been left defenseless. What do you think of the efforts of the (HSTV) or any other agency that you're aware of helping our feline friends?Have you adopted a pet this month? Let us know what you think in the comments below!
Share your thoughts in the Comments section below, on our Facebook Page,  Follow Our Twitter Account or Head Over To Our Pinterest Page!