Chamilia Launches A New Charm To Support Humane Society #GiveWithAllYourHeart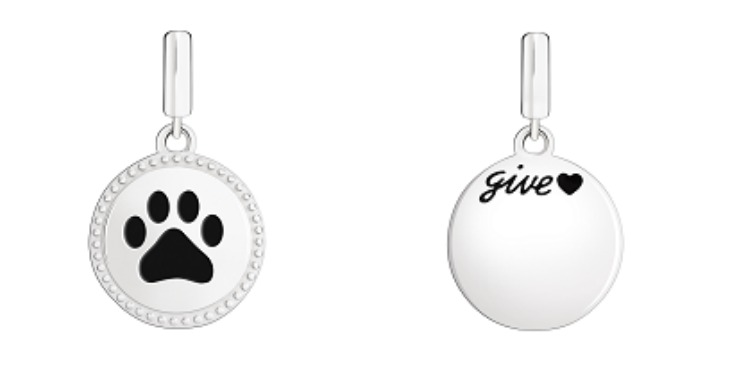 Attention cat lovers, and all other animal lovers, The Humane Society is joining forces with Chamilia (a Swarovski company) and participating in it's upcoming "Give With All Your Heart Campaign."
In an official press release, Chamilia announced that they are adding a one-of-a-kind charm to their extensive collection, and a portion of the sales will go to Humane Society International. There are hundreds of animal-focused charities and organizations around the world, but Humane Society International is one of the only ones that helps animals from all walks of life – pets, wild animals, farm animals, and even animals in laboratories.
The "Give With All Your Heart" pendant to support the Human Society is a beautiful sterling silver charm with black enamel writing. Chamilia is a part of the Swarovski Company, which means they pride themselves on craftsmanship and quality, and the company is based right here in the United States (in Cranston, Rhode Island). The Humane Society inspired charm is framed with Chamilia's signature milligram pattern and can be attached to any bracelet or necklace.
Kitty Block (Senior Vice President of Humane Society International) announced in an official press release, "We are thrilled to collaborate with Chamilia in the 'Give With All Your Heart' campaign.Sales of this beautiful charm will help us protect animals and fight against animal cruelty worldwide. We thank Chamilia for making animal protection part of their charitable initiative."
The Humane Society does a ton of work for abandoned and homeless cats, and we are a huge fan of their organization and charity. If you are a cat lover or any animal lover for that matter, you should definitely check out the new Chamilia "Give With All Your Heart" charm. For every HIS charm that is purchased from Chamilia, $4 is donated to the Humane Society!
Share your thoughts in the Comments section below, on our Facebook Page,  Follow Our Twitter Account or Head Over To Our Pinterest Page!