'Nine Lives' Trailer And Release Date Revealed – Jennifer Garner And Kevin Spacey Star In Hilarious Talking Cat Movie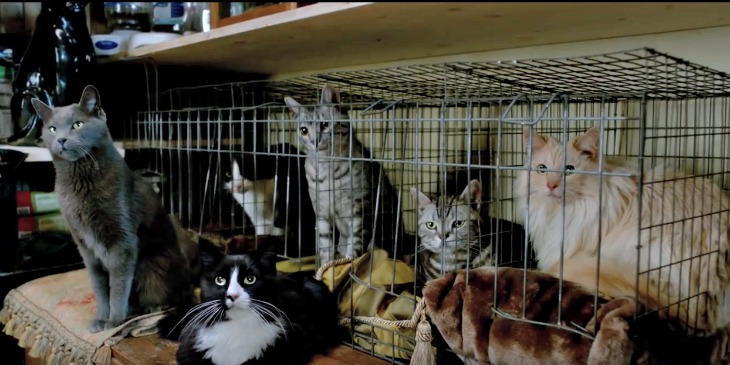 If you are a cat lover like us, then you are most likely counting down the days until the premiere of the new family comedy, "Nine Lives." The only thing funnier than a cat dancing or attacking its shadow, as far as we are concerned, is a movie about a talking cat. There are tons of talking dogs out there, but it isn't too often that our favorite celebs lend their voices to a talking cat.
"Nine Lives" is the story of husband and father Tom Brand. Tom is a businessman, and he spends long nights at the office and doesn't spend a whole lot of time with his wife Lara and daughter Rebecca. As Rebecca's 11th birthday nears, he runs out at the last minute to buy her a gift, he finds himself at a strange pet store and purchase a cat from the quirky store owner named Felix. On the way home from the store, Felix is in an accident, and he winds up trapped in the cat's body. Of course, he can't switch back until he makes things right with his family.
You Might Also Like —> Treasury Cat Gladstone Thrilled To Serve Queen Elizabeth: Friendlier Than Larry and Palmerston
"Nine Lives" features a stellar cast. Tom Brand/the cat is played by Kevin Spacey, and his wife Lara is played by the one and only Jennifer Garner. Christopher Walken plays the part of the store owner Felix that sells Tom the magical cat. And, Tom's daughter Rebecca is portrayed by up-and-coming actress Malina Weissman.
The promo video for "Nine Lives" is absolutely hilarious, this is a true family comedy full of age-appropriate cat shenanigans. And, we can all agree that Kevin Spacey makes for a pretty hilarious cat. Hopefully he doesn't run out of his "Nine Lives" before he makes things right with Lara and Rebecca.
"Nine Lives" is set to hit theaters on August 5 2016, and we can't wait!
Share your thoughts in the Comments section below, on our Facebook Page,  Follow Our Twitter Account or Head Over To Our Pinterest Page!