Homemade Cat Treats for Kitties With Sensitive Stomachs – RECIPE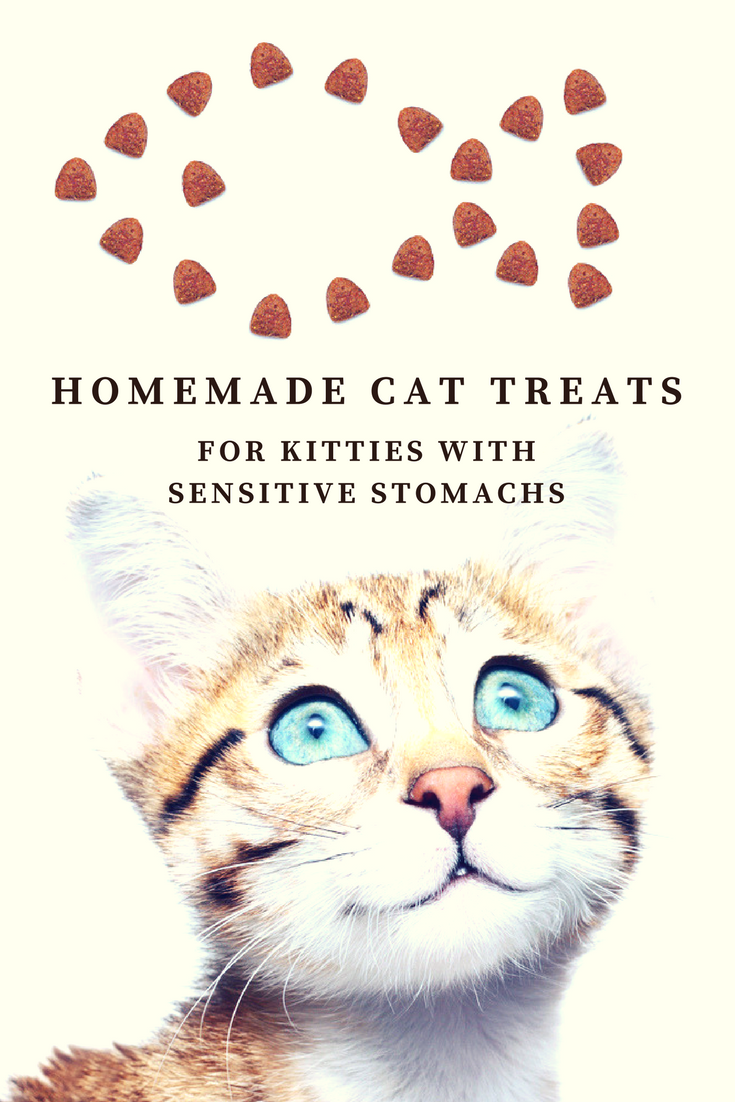 If you're a fan of making your own cat food, this homemade cat treat recipe for kitties with sensitive stomachs will be great for any of your furry friends. You can also pin this post and put these extra tips to use when you have a fur baby with stomach issues.
Related: What to Feed Your Cat if They Have Food Allergies
Some things you should think about when it comes to your cat's diet and tummy troubles…
Refusing to eat, repeated vomiting, bouts of diarrhea or constipation are all signs of a sensitive stomach.
While you can correct the issue with diet, it's always best to get your trusted vet's opinion.
Your pet might be allergic to his or her food. Fish, beef, milk, and chicken are the most common allergens in cats.
For sensitive stomach diets, feed your feline single source proteins such as veal, venison, lamb or turkey.
When switching foods, make sure you make the change gradually, mixing the original food with the new diet.
If you shop for pre-packaged food or treats, make sure you avoid artificial ingredients and preservatives. Some common ingredients you'll want to avoid are BHA, BHT, ethoxyquin, potassium sorbate, sodium nitrate, propylene glycol, and calcium propionate.
Ingredients:
2 cups rice flour
1/2 cup pureed turkey meat (organic baby food works well)
1/2 cup pureed peas
Directions:
1. Preheat oven to 325 degrees.
2. Line a cookie sheet with baking parchment paper.
3. Combine flour, turkey, and peas into a mixer or food processor.
4. When the dough begins to pull away from the sides of the bowl, knead on a lightly floured surface.
5. Use small cookie cutters or a knife to create bite-sized shapes.
6. Bake your treats for 20 minutes at 325 degrees, then flip the treats and bake an additional 40 minutes at 175 degrees.
7. Allow cooling before storing in an airtight container.
Related: Grain-Free Kitty Treats: Wellness Natural Pet Food Creates Healthy Low-Calorie Cat Snacks
You can customize this recipe to suit your cat's taste. In place of turkey, you can easily use any hormone and antibiotic-free protein. The same principle applies to the peas. Instead of peas, you could also consider unsweetened applesauce, spinach, or even pumpkin. Also, remember that treats should be used to reward positive behavior and only makeup 10% of your cat's diet.
Share your thoughts in the Comments section below, on our Facebook Page,  Follow Our Twitter Account or Head Over To Our Pinterest Page!