Wine Time: Have Your Favourite Feline Join You – Cat Wine All-natural, Non-Toxic, Non-Alcoholic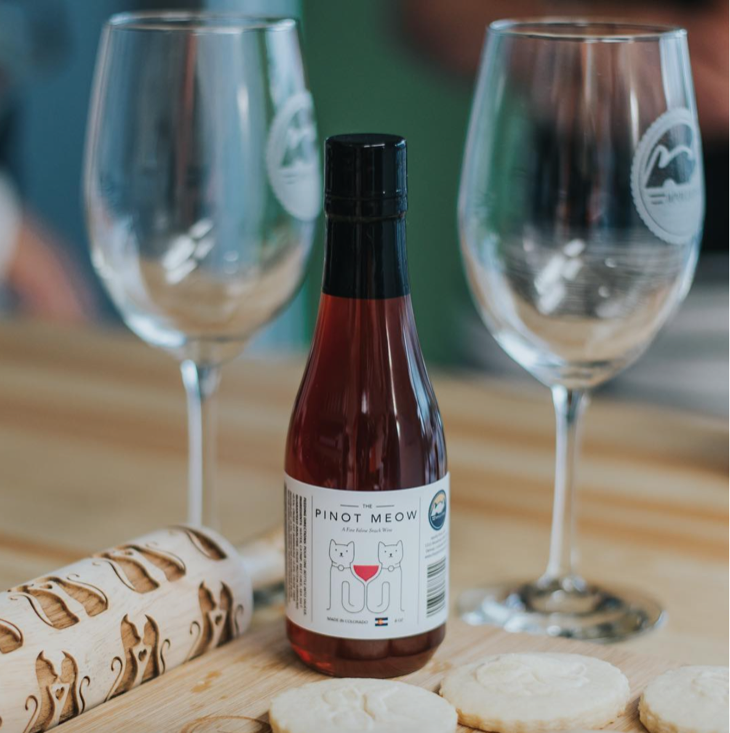 Thanks to Apollo Peak there is now an all-natural wine made with organically grown catnip, fresh beets and natural preservatives for your feline friend. Wine drinkers can enjoy a glass or two with their favorite kitty, or kitties.
Apollo Peak, based in Denver, Colorado, has launched non-alcoholic versions of humans favorite wines which means you and your fur baby can relax together on a Friday night – or any other night – with a nice glass of Pinot or Muscato.
Featured in the company's blog is a Chartreux named Apollo – at least he thinks he's a Chartreux. Apollo apparently is a fond wine connoisseur of feline wine. Why should wine be enjoyed only by humans? The quest to make a great tasting and non-toxic cat wine made from whole ingredients began.
Founder and CEO Brandon Zavala started Pinot Meow on a lark when he designed a cat-themed wine label for regular human wine to give as gifts to friends on an annual trip to Lake Cumberland.
In August of 2015 the Pinot Meow recipe was conceived and in September 2015 the first batch of the all-natural cat wine was bottled.
Except for the water all the ingredients for Cat's Meow wines are sourced from local farmers and shops in central Colorado in the foothill of the Front Range Mountains.
Not quite ready to commit to sharing your passion for wine with your kitty? Apollo Peak offers single tasting bottles of their Pinot Meow Meownce and Muscato Meownce wines. You can purchase the 1.6 ounce single tasting bottles through the company's website for $4.95 each.
Once the Apollo Peak all-natural cat wine has been approved by your kitty, or kitties, you can purchase full-size bottles of the above non-alcoholic wines for $11.95 each.
What do you think?  Would you purchase your cat a bottle of this wine? Is this a purrfect treat for your feline?
Share your thoughts in the Comments section below, on our Facebook Page,  Follow Our Twitter Account or Head Over To Our Pinterest Page!