The Hallmark Kitten Bowl Returns February 5, 2017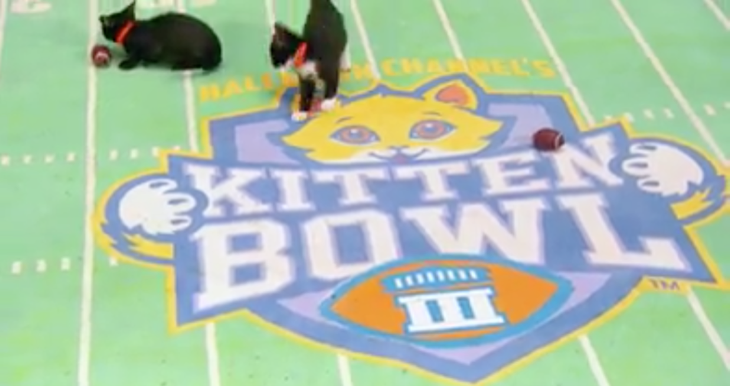 Meow've got to be kitten me! Nope, it's true, it's that time of year again, time for the inimitable, incomparable, cuteness-overload known as Kitten Bowl! Thanks to the Hallmark Channel, furr-ocious Kitten Bowl IV returns to our TV screens February 5, 2017.
If you love cats you won't want to miss this Su-purr Bowl of the feline kind! Kitten Bowl features the most adorable, and adoptable, cat-letes imaginable going for the gold, er, the tuna!
This adorable Feline Football League presentation will once again be hosted by celebrity Beth Stern, a staunch animal advocate.
You Might Also Like —> This Massive Cat Art Collection Will Blow Your Mind
And lest you think that this competition is pure fluff, none other than NFL Most Valuable Player Boomer Esiason is the FFL Commissioner! This fierce four-time Pro Bowl quarterback is no creampuff, and under his watchful eye and whistle, these little lions know better than to try anything out of bounds!
As the days wind down to the big event, be sure to check out Hallmark's Kitten Bowl website. I guarantee that you'll be amazed at the ginormous amount of, what else, cat videos available for your viewing pleasure!
That superstar of the infield, Rob Gron-Cat-ski has his very own highlight reel that is not to be missed, and you can also watch the Cat Combine and Cat Draft. Ah, I'm in Cat Heaven!
You Might Also Like —> What Would Happen If Cats Ruled The World #IfCatsWereInCharge
In between crazy cat videos, (think cat coin tosses and touchdowns!) be sure to check out the site's cat-lete card creator! This amazing ap allows cat parents to use their own fur baby's picture to create a cat trading card; just like the big leagues!
There's also a Kitten Cam and loads of pictures to peruse from Kitten Bowls past.
What's that you say, your boss frowns upon the practice of cat video watching at work? No worries! You can purchase a cat calendar on the site, and enjoy those little fur balls at work every day of the month!
Share your thoughts in the Comments section below, on our Facebook Page,  Follow Our Twitter Account or Head Over To Our Pinterest Page!