Thanksgiving Cat safety Check List – Keep Your Pets Safe During The Holidays!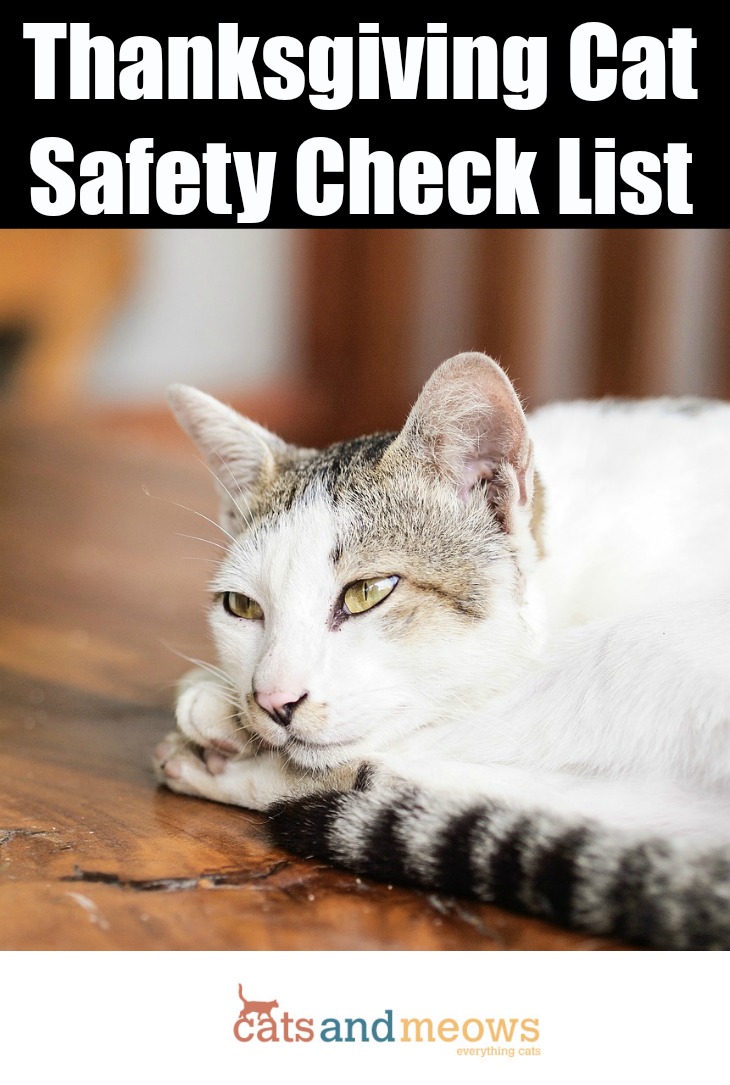 Thanksgiving can be a stressful time of year, especially if you are hosting Thanksgiving dinner at your house.  But, if you have pets – I can be even more stressful.  Obviously, we love our cats and we want them to be a part of our festivities during the holiday season.  But, Thanksgiving dinner can be packed full of cat safety hazards that you may not even think about.  Before your Thanksgiving day kicks off – be sure to check our cat safety checklist.
You might Also Like —> What Is Cat Scratch Fever – Symptoms And Treatment
Open Flames and Candles
It wouldn't be Thanksgiving dinner without a beautiful centerpiece and a candle lit dinner.  Your guests may love your decorations, but so will your cats – and there is a good chance that they will be a bit curious about the open flames.  The last thing you want is for your pet to get burnt or knock down a candle and start a fire.  Be sure to keep any open flames out of your kitty's reach.
Open Door Policy
If you have a hefty guest list, especially if there are kids on it, chances are that your front door will be open and shut hundreds of times throughout the day – and someone could even leave it wide open.  Make sure your guests are aware that you have a cat in the house, and he or she is not allowed outside.  To be safe, you might want to put your pet in another room or upstairs so that they don't have easy access to the front door and can't slip out unnoticed.
You might Also Like —>How To Save Money On Cat Food
Turkey
If you are preparing Thanksgiving dinner, then you will most likely be serving turkey.  While turkey sounds like a delicious entrée for your pet – don't forget about the tiny bones.  Poultry can be dangerous to cats because of the small bones, if swallowed they can cause tears in your cat's digestive tract and can even be deadly.  If you do decide to treat your cat to some turkey, make sure you check for bones!
Alcohol
Sweet wines can lure your cat in, but there is nothing funny about a cat sipping alcohol, despite what some of your rowdy guests may think.  Make sure no one is leaving half drank glasses of alcohol unattended – it could be disastrous and prompt an unexpected trip to the emergency veterinarian clinic.
Share your thoughts in the Comments section below, on our Facebook Page,  Follow Our Twitter Account or Head Over To Our Pinterest Page!