Lucky Felines Saved in Two Purr-fect International Rescues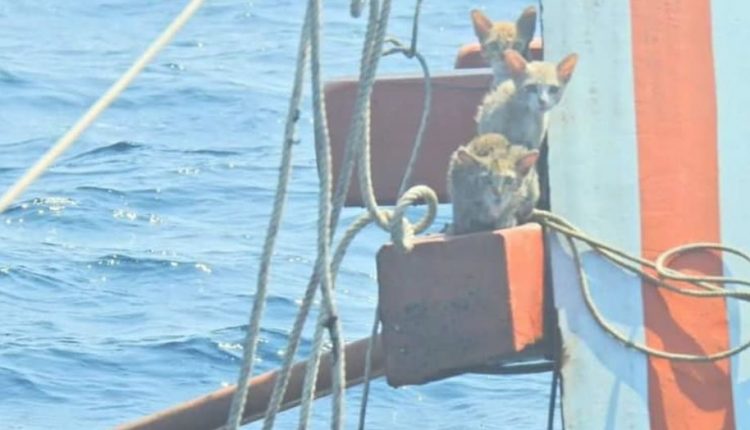 Cat news reveals that several cats used up some of their nine lives recently when they found themselves in danger. Luckily in both cases the fortunate felines were rescued at the last minute by some clever and quick-thinking, not to mention brave, humans.
Keep reading below to find out how multiple cute kitties lived to see another day with the helping hands of caring humans.
A Thai Sailor Saves the Day
In the first case of feline misadventure, a Thai navy sailor is to thank for the dramatic rescue this week of four cats that had been abandoned on a sinking ship after the ship caught fire off a small island.
The crew was rescued on Tuesday and after ensuring the humans were safe, the navy was sent back to the capsized vessel in order to find and supposedly cap an oil spill.
What was found was much more dramatic. According to First-Class Petty Officer Wichit Pukdeelon of the navy's air and coastal defense division, "I used my camera to zoom in to the boat, and I saw one or two cats popping their heads out."
Luckily the sailors had more compassion than the crew! A sailor in a life vest swam to the capsized boat where he found four ginger cats huddled together on a wooden beam.
Lucky Cats with Nine Lives
The hero rescuer saved the cats by putting them on his shoulders and keeping them above sea level. When he reached the boat, his team pulled him and the litter up with rope.
Video of the rescue mission was shared on Twitter by Reuters and immediately went viral. The cats are now being cared for by their rescuers at their command center on the island of Koh Lipe.
 "Swagger" Cat Held Up Train
Back on dry land, one naughty cat nearly spent one of his nine lives by perching atop a train roof as it prepared to depart.
The tabby was spotted on an Avanti West Coast train at London Euston, also on Tuesday, right before it was due to leave for Manchester.
A Pet Cat May be Beneficial for Kids with Autism Spectrum Disorder @catsnmeows https://t.co/Rp9fG8zu16

— CatsAndMeows (@CatsNMeows) February 26, 2021
Passengers had to be transferred to a replacement train as station staff tried for two and a half hours to coax the kitty from the train which reaches speeds of 125 mph.
The moggy conceded defeat when a trash bin was pulled next to the train and he nimbly dived into the contents no doubt in search of a tasty morsel.
According to the rescuers on scene, the cat was completely unperturbed by the ruckus he kicked up and was seen "swaggering off" as if he had somewhere else to be.
Be sure to catch up on everything happening with Cats. Come back here often for Cats news and updates.