How To Dress Your Cat Up For Thanksgiving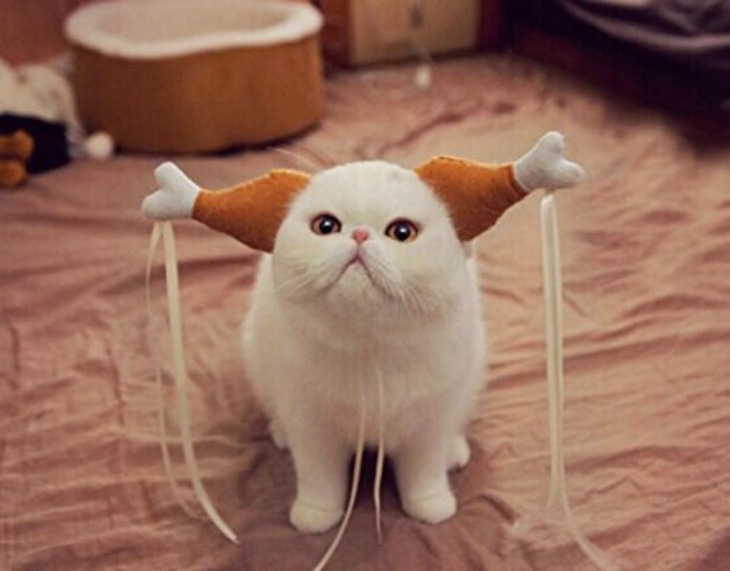 Feeling festive this year?  So you just decorated your house for Thanksgiving, why not decorate your cat too?  We absolutely adore the holidays, and can't wait for Thanksgiving day – delicious food, making memories with family and friends, and of course the parades!  If you are a cat owner, then most likely you consider your cat a member of the family, and certainly you don't want to leave them out of the holiday festivities.  And, also, there is absolutely nothing cuter than a cat dressed up as a turkey.
DIY Thanksgiving Costumes
While dog sweaters and costumes seem to roll out for every holiday, you most likely have found that it is a bit difficult finding appropriate holiday attire for you cat.  As a cat owner, we have found that one of the only clothing cats seem to not try to take off – is a cape, plus they are pretty simple to make.  You can always adorn your cat in a "Happy Thanksgiving" cape, or just a basic cape with a festive Thanksgiving print.
Turkey-themed fabrics are always on sale at the craft store during the holidays.  You also could use some feathers to construct a Native American themed headdress for your furry family member to rock at Thanksgiving dinner this year.  Although the odds of him or her leaving it on for a lengthy period of time are slim, so get your cameras ready.
Hit The Doggie Sweater Aisle
Obviously, we know that cats are NOTHING like dogs, but physically speaking they do have similar body types.  While the pet store seems to skimp on cat clothing, the doggie clothing aisle is always stocked with holiday gear.  The awesome thing is, most small dog sweaters will fit your cat.  And, if your cat is bit on the hefty side, they might even need a medium!
Search The Internet
While stores may not be stocked with cat Thanksgiving costumes, you can find practically anything on the internet.  Amazon has an adorable turkey drumstick headband available for cats, at an affordable price.  And, you could also head over Etsy, where one clever online shop owner is selling crocheted Thanksgiving hats for cats!
Share your thoughts in the Comments section below, on our Facebook Page,  Follow Our Twitter Account or Head Over To Our Pinterest Page!