Check Out The Amazing Acro-Cats, A Real Life Cat Circus!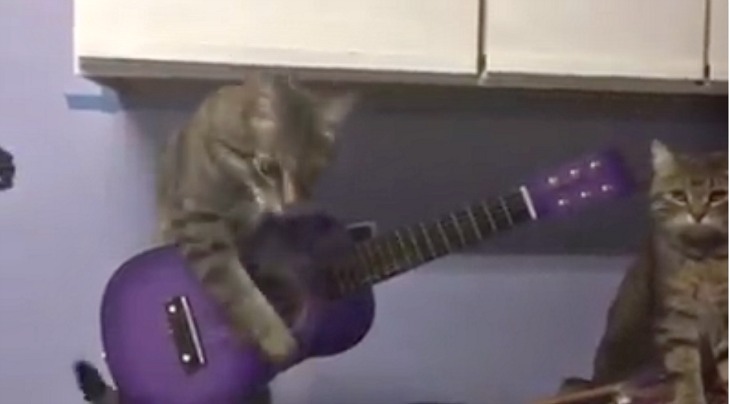 What if we told you there was a cat circus, and you could actually pay to watch adorable cats do tricks and play instruments. When we first heard of the Amazing Acro-Cats, it seemed almost too good to be true. But after careful investigation we are happy to report that the talented Acro
Cats and their trainer Samantha are very real and every bit as amazing as their name promises.
According to the Acro-Cats official website, the all cat circus is based in Chicago, Illinois. And, they have been featured on national television programs like the Late Show With Stephen Colbert and The Sunday Morning Show on CBS. The talented little kitties have even appeared in Wal-Mart and Pet Smart commercials!
You Might Also Like —> Werewolf Cats – Lykois Are Taking The States By Storm, And They're Adorable!
So, what exactly does an Amazing Acro-Cat show include? According to their website, "On Samantha's cue, they perform tricks with various hoops, tumblers, skateboards, hoisting flags, reading signs, even rolling balls over parallel ropes! This amazing spectacle also includes performing mice, rats and even a cat vs chicken bowling show-down!" Samantha also brings along the "Rock Cats," an all cat band who play instruments!
Another thing we love about Samantha and the Amazing Acro-Cats is that they not only entertain us, but the company also raises awareness for cat adoption and local animal shelters in the cities that they perform in.
You Might Also Like —> Samson, The Fattest Cat In NYC Weighs In At 28 Pounds And Has More Instagram Followers Than You!
In the month of October 2016, the Amazing Acro-Cats will be performing in Chicago, Illinois, Detroit Michigan, Grand Rapids, Michigan, and Madison Wisconsin. If you are interested in purchasing tickets to the cat circus this year, you do so right here. Plus, they already have their 2017 schedule up and it looks like they will be all over the United States!
Share your thoughts in the Comments section below, on our Facebook Page,  Follow Our Twitter Account or Head Over To Our Pinterest Page!