Reunited Cat Ritz Nearly Lost His Life But For Nick Of Time Save
A reunited cat story emerged over the weekend that's bound to make animal lovers smile through their day. Sometimes, cats leave their homes and disappear. Who hasn't seen posts in shop windows and on social media where owners frantically ask folks to keep an eye out? Well, the cat that was returned to its home this time, was gone for a very long time. Actually, Ritz was found in the nick of time, as he was slated for euthanasia.
Reunited Cat Owners Couldn't Believe That Ritz was Found
Sometimes, when family felines leave home, plenty of folks call it in. Especially, if it involves one of the bigger cats like Stryker. If you don't know, Stryker left home when his family relocated. The cross between an African Serval and a domestic cat looked big and scary, so folks who saw it in the neighborhood quickly took action. But who really notices an ordinary grey cat wandering by?
The reunited cat news that arrived this weekend didn't involve the drama of four cats rescued off a sinking ship. But like them, Ritz was pretty much saved from a terrible fate in the nick of time. In fact, if the Lums Pond Animal Hospital hadn't checked for a microchip, that would have been the end of his life.
Reunited Cat Story Is Amazing – Gone For So Long
CBS carried the story about Ritz who so nearly lost his life. Before Jason and Liz McKenry even thought about raising kids, and before they tied the knot, they got Ritz. A very cute kitten at the time, one day, Ritz ran off and never came back. Posters and appeals went out and the couple hunted fruitlessly for their beloved pet.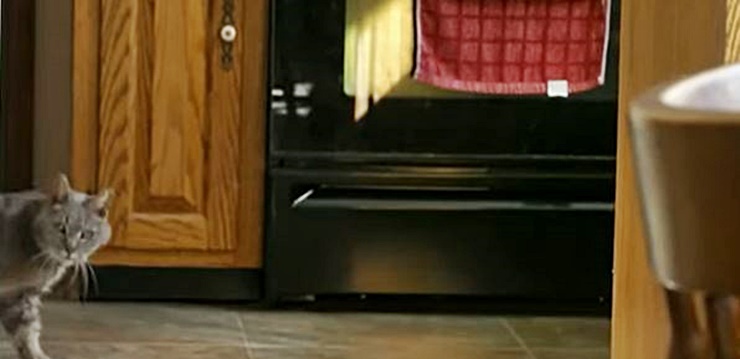 Unbelievably, the couple reunited with their cat "16 years" after he disappeared. Actually, he didn't go very far, and someone found him in a trailer park about six miles away. Unfortunately, he'd injured his back legs. In fact, he seemed in such a bad way, that the finder took Ritz to the animal hospital to be put down.
Nick Of Time Text
Now reunited with their cat, Jason and Liz McKenry talked about how the veterinarian scanned Ritz and found a microchip. So, he got a text saying Ritz had been found. Disbelieving, he assumed that over 16 years, the tag was probably recycled.
Anyway, it turned out to be their own cat. Still hampered by his injuries, Ritz nevertheless lives happily in the home where he's not the only baby now. While he was gone, the couple married and had human kids as well.
Be sure to catch up on everything happening with feline friends. Come back here often more for big cat news and updates.