World's Oldest Cat, 'Nutmeg' Turns 31 Years Old!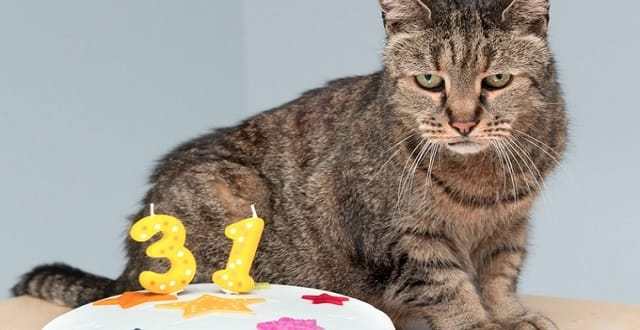 Nutmeg is the world's oldest cat at the age of 31 years. That's 141 in feline years! Nutmeg resides with his owners, Liz and Ian Finlay. He became a part of their lives when he was five years old in 1990. His 31st birthday was celebrated in style with an appropriate cake to acknowledge his years.
The cat has been well spoiled over the years, usually with treats such as tuna, cream, and hot roast chicken. In an article in "The Sun", A UK News Company, Ian commented, "Nutmeg has been very well cared for. He has his own room in the house. "He is part of the family. We always say we are his humans, rather than he is our cat. We are very proud that Nutmeg is the oldest cat in the world, but to us, he is just our pet." Now that's being treated like a King.
As the couple adore Nutmeg, he has aged and Liz Finlay comments about his disposition, "Nutmeg is like a lovable old grandpa. He is very gentle, but he has changed as he has got older, just like humans do. He is grumpier now, and his meow is more like a growl." Liz went on to reveal that Nutmeg actually suffered a stroke last year, the Finlay's took him home with them rather than letting the vet put him down, because they wanted him to be comfortable in his own home when he passed, but he didn't instead he recovered!
During a conversation with a veterinarian, Ian commented on the age of Nutmeg. It was only then that they realized they have the oldest living cat. What a genuine surprise. How would you feel to find out that your adorable pet and family member could be one of a kind? Let us know what you think about Nutmeg and his incredible long lasting life in the comments below.
Share your thoughts in the Comments section below, on our Facebook Page,  Follow Our Twitter Account or Head Over To Our Pinterest Page!