Upper West Side Cat is NYC's BEST Foster Dad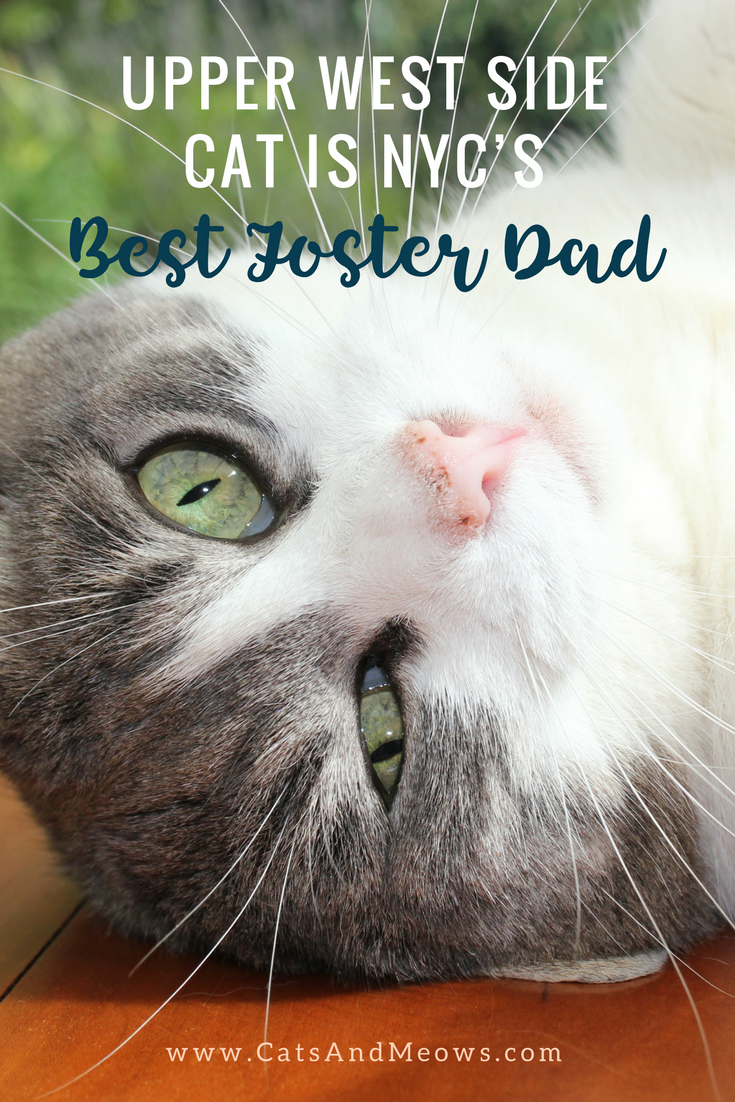 In this day and age of Insta Cats, there's one internet sensation who's famous for all the right reasons. Sure, this top cat likes to show off his famous friends and admirers, like Ice Cube and Whoopi Goldberg. Yes, he posts tons of flattering pics of himself modeling all the latest fashions (no cat rocks a bigger bow tie collection), but who doesn't?
Just when you thought you'd seen it all in terms of online cats and their kooky antics, meet Charlie, a handsome 7-year old white and gray phenom who just may be the coolest Cat Daddy of them all.
According to the New York ASPCA, Charlie, who lives on the Upper West Side, is the top foster dad in the Big Apple. For the past five years Charlie (with a little help from his owner) has had a paw in raising 25 foster kittens. Charlie is a hands-on dad, preparing the little ones for adoption by cuddling and grooming them, and making sure they stay out of trouble.
Chandler Alteri is Charlie's forever mom and in an interview with The New York Post, the 27-year old television producer described how she and Charlie found each other.
Little Charlie and his siblings were discovered in 2010, abandoned in a box near her parents' Nashville, Tenn. home. The adorable kitten was fostered by Alteri's mom, and when she said he was available, the young woman was instantly smitten.
At the time Alteri was living with roommates and three dogs, but Charlie fit in right away and the rest is history. The proud papa got along so well with the other animals that Alteri decided to foster kittens once she and Charlie moved into their own living quarters.
In 2012 Alteri and Charlie relocated to New York and Alteri got her first pair of ASPCA fosters, Bitsy and Jitterbug.
Just as he did with his dog friends, Charlie automatically went into caretaker mode, bathing and grooming them as though they were his own.
Alteri notes that many of the pair's foster animals come with special needs including blind cats and amputees. And this is where Charlie excels as a kitty caretaker.
"He lets them fake nurse with him," says Alteri. "He cleans them. Sometimes he bops them around, like training them to stand up for themselves and be independent. He teaches things I can't."
One foster cat with motor skills problems was just one of the lucky recipients of Charlie's TLC. "Charlie would clean him after he went to the bathroom or after getting food all over his face," said Alteri. "I would sob watching them."
Want to see the amazing Charlie in action? Check out his Instagram account.
Share your thoughts in the Comments section below, on our Facebook Page,  Follow Our Twitter Account or Head Over To Our Pinterest Page!