Rad Cat Raw Diet Brand Voluntary Recall: Listeria And Salmonella Concerns In United States And Canada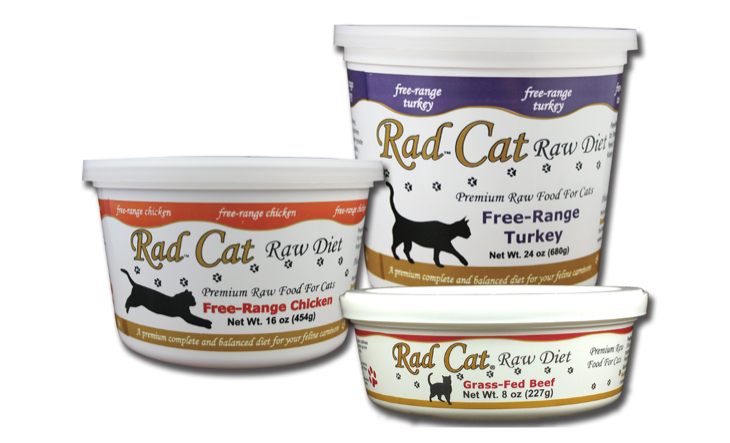 Rad Cat Raw Diet brand pet foods have been voluntarily recalled. This recall indicates there are listeria and salmonella concerns. The recall is for several varieties sold by Radgast Pet Food, Inc. in both the United States and Canada.
Cats who have consumed the Rad Cat Raw Diet food that has been affected by listeria and/or salmonella may be lethargic. Other signs to look for are decreased appetite, fever, abdominal pain, vomiting, diarrhea or bloody diarrhea.
The U.S. Food and Drug Administration issued a press release detailing the Rad Cat Raw Diet varieties and container sizes. Customers who purchased these items should NOT return any of the recalled items to the point of purchase. Dispose of the products in a secure garbage receptacle.
Visit the Radgast Pet Food website to obtain a Consumer Claim Form. Return the form to the retailer where the Rad Cat Raw Diet food was purchased for a refund. If you have questions you may call Radgast Pet Food at 503-736-4649 for assistance in completing the form.
The complete list of recalled foods with UPC codes and lot numbers can be found on the U.S. Food and Drug Administration website. Canadian consumers should refer to this list as well.
The cat foods affected are the 1-ounce sample cups, 8-ounce, 16-ounce, and 24-ounce tubs of Rad Cat Raw Diet Grass-Fed Beef, Chicken and Turkey varieties.
Share your thoughts in the Comments section below, on our Facebook Page,  Follow Our Twitter Account or Head Over To Our Pinterest Page!