Limberbutt McCubbins Enters 2016 Presidential Race – And He's A Cat!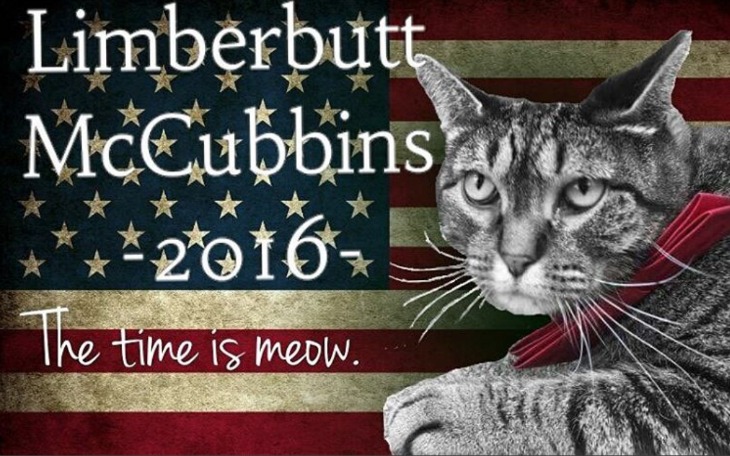 Limberbutt McCubbins for President! The 2016 Presidential race has been a wild one this year, and Trump and Clinton supporters have been bickering back and forth for weeks on social media. Several Presidential voters have voiced loudly their wishes for a third candidate to vote for, and it seems like that have finally gotten their way. Let's all give Limberbutt McCubbins a warm welcome to the 2016 Presidential race!
Limberbutt certainly is not your traditional Democrat – he's not a well known politician by any means, just an adorable cat hailing from Kentucky. According to The Washington Post, the adorable feline has some pretty interesting positions on gay cat rights, tax codes, and the middle class. Oh, and is campaign slogan is, "The Time Is MEOW." Kind of catchy, wouldn't you agree?
You Might Also Like —> Check Out The Amazing Acro-Cats, A Real Life Cat Circus!
Believe it or not, Limberbutt's owner Elliot Weiss didn't enter his cat in to the 2016 Presidential Election to make a mockery of this Fall's crazy campaigns, instead he is hoping to raise awareness. Weiss explained to the Washington Post, "I would argue that people today have become fed up with the two-party system. Limberbutt, for them, is an outlet to voice their frustrations and have a political discussion with a true outsider and hopeful Washington fat cat."
Of course, this also brings to light once again the hilarious wording in the US Constitution, in which they don't specify that a candidate must be a human. Limberbutt is not the first animal to run for President, and he probably won't be the last – but at least his crafty owners are using his campaign as a crafty way to raise awareness.
You Might Also Like —> Werewolf Cats – Lykois Are Taking The States By Storm, And They're Adorable!
If you want to learn more about Limberbutt Mccubbins, you can check out his official Facebook Page right here!
Share your thoughts in the Comments section below, on our Facebook Page,  Follow Our Twitter Account or Head Over To Our Pinterest Page!