Cat Yoga Meowga is Trending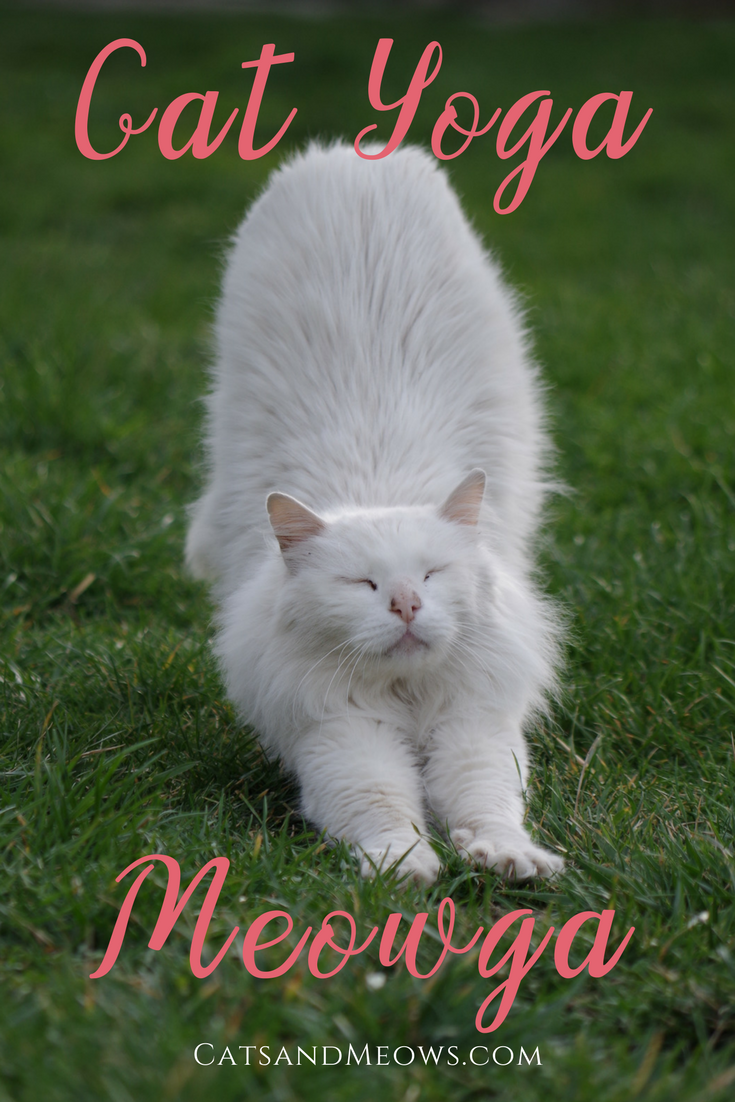 You've cat to be kitten me right meow! Cat yoga is a thing? Yes, and the only question we have is what took so long?
Welcome to the wonderful world of Meowga, the sublime hybrid of cats on mats combined with yoga poses! Meowga isn't just the latest fitness fad, it's a notable trend in which rescue or shelter cats are introduced into local yoga classes. The goal? Besides the obvious cuteness factor, the aim is to hook up healthy cats with loving owners. Is there any place more suitable for cat adoptions than a studio where stretching and yawning is not only acceptable but encouraged?
Jeanette Skaluba, a dedicated yoga practitioner, is the brains behind this ingenious idea. She volunteers at Homeward Bound Pet Shelter, in Decatur, Illinois, and when her idea went viral she knew she was onto something.
"The point is to give cats a chance to show their personalities outside of the shelter," she explains. Meowga got its start after Skaluba posted a YouTube video of cats and students enjoying yoga together; it blew up the internet with almost 250,000 hits last year alone.
"The cats paw their way onto yogis' mats, climb on their backs, and even sit on practitioners' laps, which cat lovers find endearing—oftentimes so much that they can't resist taking a cat home," says the yoga buff. Sign me up!
Want more information on this irresistible, um, movement? You're in luck! Meowga, and similar type classes, are turning up at yoga studios everywhere a cat and a mat can be accommodated. Check out the website, yoga4cats.com, for more information.
Related: Should Your Cats Sleep With You?
There you'll find participating locations near you as well as worthy projects such as Project Catification. According to the website, "Catification is about creating feline-friendly environments that cater to a cat's natural instincts to climb, perch, rest, play, and own their space."
Affiliate links included below. Thanks for your support!
Forever Home Feline Ranch near Rochester, IL is home to the group's current Catification Project and volunteers are always needed to help assemble cat furniture, posts, etc.
Share your thoughts in the Comments section below, on our Facebook Page,  Follow Our Twitter Account or Head Over To Our Pinterest Page!