BlueClaws CATurday – Take Your Cat Out To The Ball Game! Details HERE!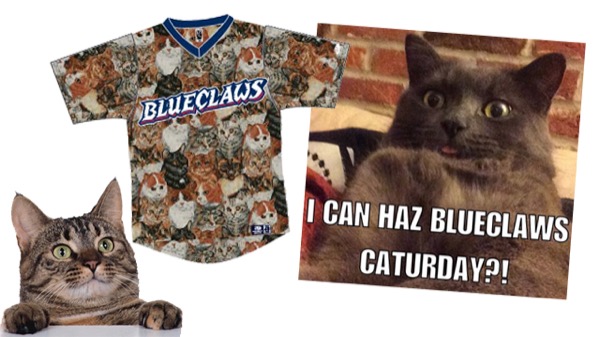 The Lakewood BlueClaws are officially our new favorite minor league baseball team. The BlueClaws, which are an affiliate of the MLB Phillies, hail from New Jersey. This weekend the BlueClaws are playing at home, and they have officially dubbed game day "CATurday," and they have basically the greatest activities lined up EVER. Seriously, the minor league baseball games around here were this exciting, we might actually go to one or two!
CATurday is a salute to cats and was created to raise money for BlueClaw Charities. The players at CATurday's game will be wearing jerseys covered in CATS! And, at the end of the game they will be auctioned off to fans. But, wait, there's more! According to the BlueClaws' official website, they are inviting fans to bring their cats to the baseball game (of course they have to be on a leash or in a cat carrier).
The BlueClaws also have an evening of adorably cheesy cat-themed events lined up for their fans, and New Jersey's cat enthusiasts. They will be singing "Take MEOW TO The Ball Game" and serving "Black Cat Cocktails." They will also have CATurday limited edition T-Shirts for sale, and a special guest appearance by Miss Kitty. Also, a local cat adoption agency will be on hand with cats up for adoption – you know in case you forgot your cat at home and need a back-up cat for the fun night of festivities.
So, if you happen to be in New Jersey this weekend, and are looking for something fun for you AND your cat to do – we highly advise checking out the BlueClaws CATurday game. Where else are you going to be able to watch guys run around in cat jerseys, while you drink cat cocktails, sing cat songs, and get to introduce your cat to other cute cats?
You can find all the details at the official BlueClaws website right here.
Share your thoughts in the Comments section below, on our Facebook Page,  Follow Our Twitter Account or Head Over To Our Pinterest Page!