Cat Enjoys Massage: Macaque Monkey Removes Ticks From Feline And Enjoys A Tasty Treat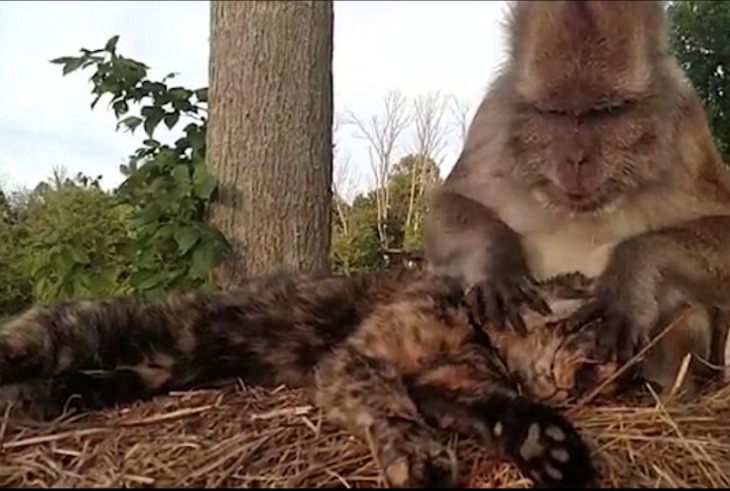 Snickers the cat enjoyed a massage courtesy of Bug's Bullock a macaque monkey who decided to remove ticks from the feline. Bug's Bullock the enjoyed a special treat, eating each tick as he removed it.
The adorable cat and monkey were captured on video as they enjoyed a day in the sun. Snickers is very relaxed, as the macaque carefully massages him and combs through his fur in pursuit of ticks. to get rid of those nasty ticks. Bug's even gave Snickers a nice back scratch.
In the video the macaque gives Snickers head a few slight whacks in pursuit of the ticks and ate them as quickly as they could be removed. The massage and treat time eventually came to an end. That's when a Bug's Bullock left a peaceful and sleeping Snickers stretched out on a bale of hay.
It was a mutually beneficial day all around. Snickers ticks were removed and Bug's Bullock had a very tasty treat. It doesn't get much better than that!
Who would think a furry feline and a macaque monkey could be friends? Not only friends, but close enough buddies for the cat to allow the monkey to massage him and remove ticks from his fur.
Share your thoughts in the Comments section below, on our Facebook Page,  Follow Our Twitter Account or Head Over To Our Pinterest Page!