Luigi The Cat And Bandito The Pug: Unlikely Pair Enjoys The Great Outdoors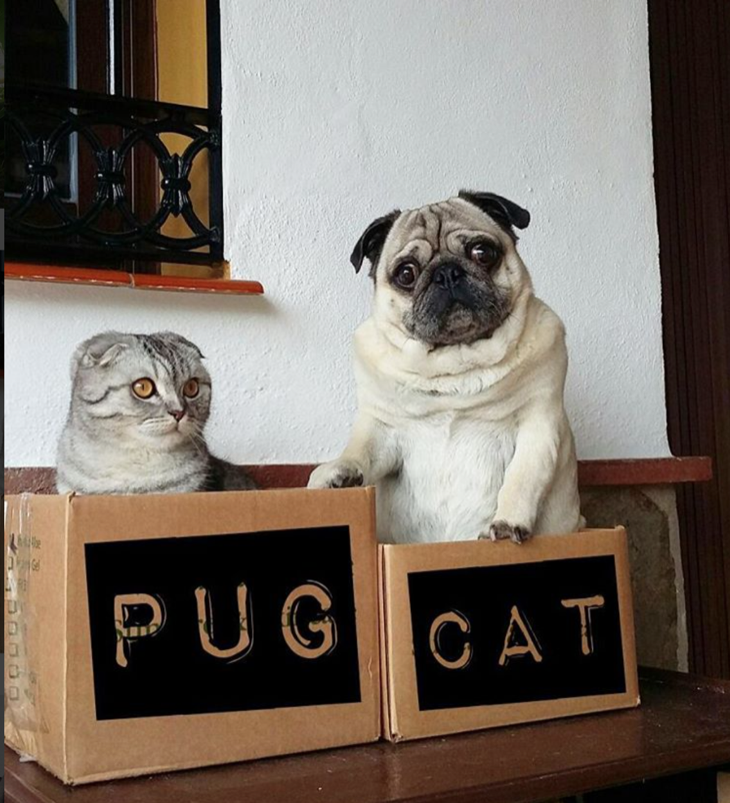 An unlikely duo, Luigi the cat and Bandito the pug enjoy spending time together outdoors. In order to prepare Luigi and Bandito for outdoor adventures their owners Sebastian and Finn set up a tent in the front room of their Barcelona home and also by taking the cat and pug out splashing around in a specially made doggy stroller.
Sebastian told Daily Mail that it took a few weeks for their furry friends to adapt. "They genuinely loved it." The foursome has visited many of Spain's national parks including Sierra Nevada, Sierra de las Nieves, Parc Natural del Garraf and Montserrat.
Bandito is a seven-year-old pug who seems to enjoy one-year-old Luigi's company a bit more than the feline enjoys his at times. Sebastian and Finn have posted several videos of Bandito and Luigi on Instagram and they are quite adorable.
In one such video Luigi and Bandito are relaxing and the pug decided it was time to give Luigi a bath. Luigi would only take Bandito's licking for so long when he pushed him away. The video is titled, "How Friday afternoons should be!!"
Bandito likes to follow Luigi around whenever he can, keeping a sharp eye on his travel companion. Finn and Sebastian put together a series of clips of Bandito following Luigi around and titled it, "Luigi the cat and his pug shaped shadow!!!" It's obvious this cat and dog love each other very much.
Sebastian and Finn have uploaded dozens of photos to Instagram of the pug and the feline riding on backpacks and happily walking through beautiful scenery. The duo enjoys playing games together and keep each other entertained as they travel around the area around their home in Barcelona.
Share your thoughts in the Comments section below, on our Facebook Page,  Follow Our Twitter Account or Head Over To Our Pinterest Page!